Dr. St. John Blakeley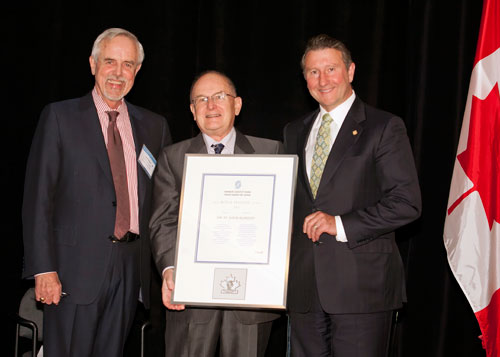 Dr. St. John Blakeley (photo, centre) is the 2012 recipient of the Roy A. Phillips award. He is accompanied by John Walter, SCC CEO (left), and Dr. W. A. Sam Shaw, SCC Interim Chair (right).
Dr. St. John Blakeley has been active for many years in developing both national and international standards. During his 34-year career with Inco Limited, he was responsible for the development of new analytical methods for nickel ores, process intermediates and final products. Dr. Blakeley was heavily involved with International Organization for Standardization (ISO)/Technical Committee (TC) 155. A member of the Canadian Delegation at the First Plenary Meeting of ISO/TC 155 in 1974, he was appointed secretary of Sub‐Committee 3, on Analysis of Nickel, Ferronickel and, later, Nickel Alloys—a position Dr. Blakeley held until 1986, when he became chairman. In 1998, Dr. Blakeley also became the secretary of the Parent Committee ISO/TC 155, Nickel, Ferronickel and Nickel Alloys, and the secretary of Sub‐Committee 3. In 2003, he was elected chairman of ISO/TC 155. Dr. Blakeley was deeply involved in the technical aspects and publication of some 40 international standards. After retiring from Inco in 1998, he continued his work with ISO/TC 155 until 2010. Dr. Blakeley is an active member of ASTM E01 on the Analytical Chemistry for Metals, Ores and Related Products and was awarded the ASTM International Lundell-Bright Memorial Award in 2003 for outstanding support.