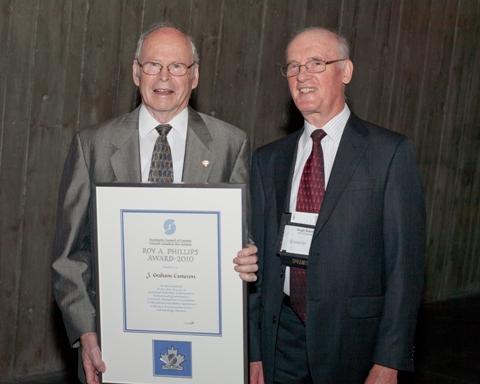 Mr. Graham J. Cameron (photo, left) is the 2010 recipient of the Roy A. Phillips Award, accompanied by SCC Chairman, Hugh Krentz (photo, right).
Mr. Graham J. Cameron
Graham Cameron is a part time Specialist / Consultant working under contract with the SCC's Laboratory Accreditation program. He began his working career, in 1952, with the Department of National Defense, as a Mechanical / Physical Metrologist, working in laboratories in the National Capital Region, Toronto and Québec City. Through participation in the National Conference of Standards Laboratories international committees, he was successful in changing the measurement traceability requirements for an US Military Standard, clearing the way for Canadian defense industries to compete on US Defense contracts. For this action, he was made a Fellow of the Standards Engineering Society and was given the Merit Award as part of the Department of National Defence's Incentive Awards Plan. He holds the Governor-General's Medal in recognition for significant contributions to compatriots, community and to Canada.