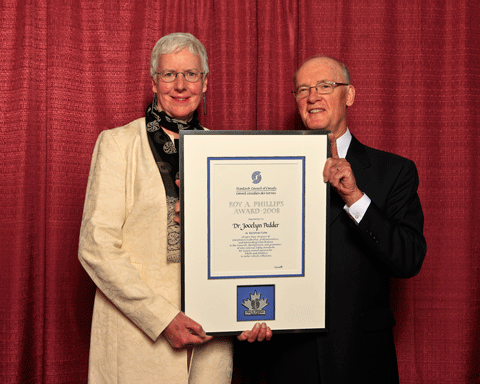 Dr. Jocelyn Pedder (photo, left) is the 2008 recipient of the Roy A. Phillips Award accompanied by Hugh Krentz, Chairman of SCC (right).
Dr. Jocelyn Pedder
Parents all over the world can thank Dr. Jocelyn Pedder for the improved safety of children in motor vehicles. Recognized internationally as an expert in child restraint systems.
Dr. Pedder has represented Canada on the working group that develops standards for child safety features in road vehicles under the ISO technical committee for motor vehicle's subcommittee responsible for passive safety crash protection systems. She is also a member of the working group focusing on traffic accident analysis methodology.
At this time, Dr. Pedder is the only Canadian representative with extensive field experience and expertise in trauma prevention and evaluation of child-restraint systems, and is the sole independent researcher representing Canada on the committee.
She's putting this expertise to work, not only through the input with which she provides her working groups, but as Chair of a task force that covers the implementation of usability criteria for child restraint systems. Her consulting company, RONA Kinetics and Associates, has hosted several meetings of this task force, and two meetings of the working group, in Vancouver.
With her help, the technical committee has published a number of standards geared towards improving the safety of children in motor vehicles, including the three parts of an international standard for universal anchor attachment systems, which are now built into all new cars in North America.
For Dr. Pedder's outstanding contribution to standardization, SCC presents her with the Roy A. Phillips Award for distinguished service to Canadian standardization efforts internationally.