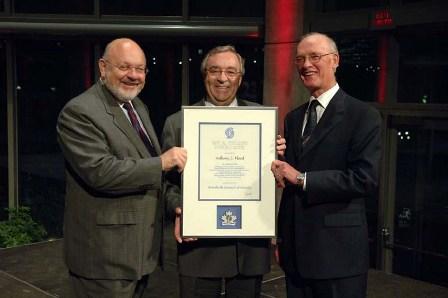 Tony Flood (photo, centre) is the 2006 recipient of the Roy A. Phillips Award accompanied by Peter Clark, Executive Director of SCC (left) and Hugh Krentz, Chairman of SCC (right).
Tony Flood
Mr. Flood is a pioneer in North American electrotechnical standardization whose efforts to harmonize standards across the continent and around the world have been invaluable to Canada. His leadership and distinguished contributions, over the past thirty years, to the advancement of international and Canadian standardization are abundant and undeniable.
Since the early stages of his career, Mr. Flood has worked tirelessly to harmonize North American fuse standards.  In 1984, he became one of the first North American delegates to the International Electrotechnical Commission (IEC) Subcommittee 32B and was instrumental in having North American requirements recognized in the IEC fuse standard (IEC 60269).
Building on this momentum, Mr. Flood was also a driving force behind the creation of the Council for the Harmonization of Electrotechnical Standards of the Nations of the Americas (CANENA) in 1994. As the inaugural chair of the CANENA fuse committee, he led the development of the first North American electrotechnical standard. From 2000-2005, as CANENA president, Mr. Flood established stronger ties with IEC ensuring the organization¹s position as the predominant forum for harmonization of electrotechnical standards in North America.
During the same period, Mr. Flood was also active on Canada¹s behalf at IEC.  While serving as president of the Canadian National Committee of the IEC, he was elected to the IEC Council and the Standardization Management Board. In addition, he was a founding member of the IEC Asia Pacific Steering Group and convenor of IEC¹s Global Relevance Task Force.
Other notable contributions include Mr. Flood¹s current role as chair of SCC¹s Advisory Committee on Standards and his work as chair of the Canadian Standards Association Technical Committee on international standards.