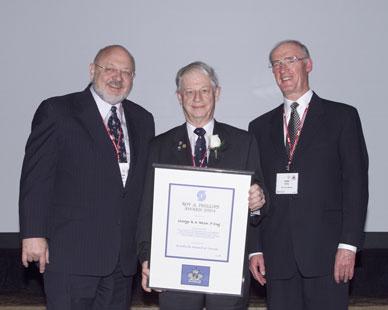 George R. A. Weiss (photo, centre) is the 2004 recipient of the Roy A. Phillips Award accompanied by Peter Clark, Executive Director of SCC (left) and Hugh Krentz, Chairman of SCC (right).
George R.A. Weiss
George R.A. Weiss has been actively involved in standards work in the area of pulp and paper processing for over 40 years and has made significant contributions in this area both in Canada and internationally.
In 1993, Mr. Weiss retired from Abitibi-Price as Director of Quality, having piloted the ISO 9000 registration process through several of the corporation's mills across Canada. It was during his time at Abitibi-Price, that he became involved with national standardization work organized through the Pulp and Paper Technical Association as well as international standards development at the International ISO. During the 1980s, his work on mathematical relationships for colour and brightness values first introduced him to ISO/TC 6, the technical committee for paper, board and pulp.
Only months after his retirement, Mr. Weiss was elected as chairman of ISO/TC 6, a position he held until November 2003. During his Chairmanship, Mr. Weiss was a key player and a driving force in promoting standardization.  Under his leadership the committee was able to successfully resolve inconsistencies among recognized standardizing laboratories related to optical property measurements and to reach an international consensus on key technical issues.
Thanks in part to his ability to communicate in English, French and German, Mr. Weiss was also able to bridge the gap between ISO standards and those being developed by CEN (the European Committee for Standardization) through participation at the annual CEN meetings.
In 1998, Mr. Weiss initiated the publication of the handbook of ISO standards pertaining to paper, board and pulps and the preparation of a bilingual CD-ROM version of the same. These tools were instrumental in broadening the use of these ISO standards. He further promoted the existence of these new publications by writing to all technical pulp and paper associations and technical industry journals around the world.