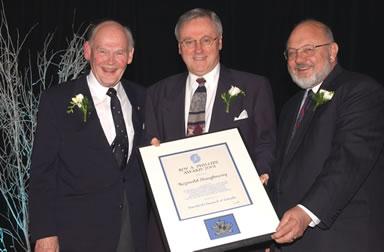 Reginald Shaughnessy (photo, centre) is the first recipient (2001) of the Roy A. Phillips Award accompanied by Roy Phillips (left) and Peter Clark, Executive Director of SCC (right).
Mr. Reginald Shaughnessy
Mr. Shaughnessy has been a volunteer in steel, health, safety and quality for 42 years. He is currently Chair of the Canadian Standards Association's (CSA) Strategic Steering Committee on Business Management, past international Chair of ISO TC 176, the International Technical Committee responsible for the development of the Quality Standards ISO 9000. He has also been a member of many organizations and has held many leadership positions over the course of his career.
Mr. Shaughnessy is a Metallurgical Engineer with supplementary qualifications in management and quality engineering. He worked in the iron and steel industry in the United Kingdom for 17 years, followed by 23 years of service in Executive Management in the Canadian steel industry. His professional life focused on metal technology, quality management and workplace health and safety systems.
He was founding member of the CSA Standards Policy Board under Dr. Jenkins, and chaired the CSA Steering Committee responsible for developing, implementing and promoting the Z299 Canadian standards. This was followed by his tenure as Chair for the International Organization for Standardization Committee responsible for the production of the ISO 9000 series of standards.
Mr. Shaughnessy believes that organizations and organizational networks only succeed when there is a significant level of volunteer resources. He currently assists organizations to understand their position, to encourage motivation towards continuous improvement, and to strive for excellence in the business processes concerned with health, safety, quality and productivity.