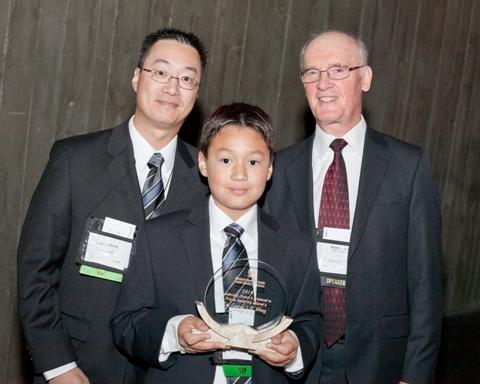 Dr. George S.K. Wong's son Patrick (photo, left) and grandson, Nathan (photo, middle) accept the 2010 SCC Leadership Award on behalf of Dr. Wong, along with SCC Chairman, Hugh Krentz (photo, right).
Dr. George S.K. Wong
Dr. Wong's four-decade career as a prominent specialist in the field of acoustical standards was highlighted by the publication of AIP Handbook of Condenser Microphones: Theory, Calibration and Measurements, which has been considered by many as the authoritative handbook in the field. George's professional career as a scientist began in 1966 at the National Research Council of Canada, where he worked on mechanical metrology at the Mechanics Section, Division of Physics. His emphasis turned to matters of acoustics where he originated and led the NRC team for the development, maintenance and dissemination of acoustical measurement standards. In 1984, George determined that the speed of sound in air is nearly a half mile per hour slower than physicists, acousticians and aerodynamic engineers had thought for four decades. In 2006 the National Post published "Canada's Top 10." which included the 10 "Canadian Firsts" in innovation since 19 century. George's groundbreaking calculation of the speed of sound continues to provide measurement standards for acoustics, ultrasound and vibration at NRC's Institute for National Measurement Standards.