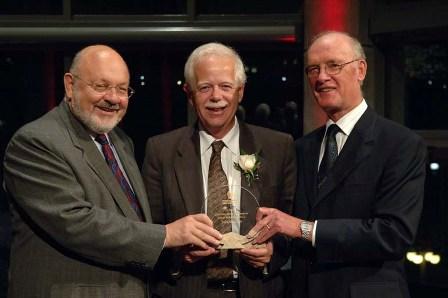 John Hopkinson (photo, centre) is the recipient of the 2006 SCC Leadership Award seen here with Peter Clark, Executive Director of SCC (left) and Hugh Krentz, Chairman of SCC (right).
John Hopkinson
Over the last 15 years, Mr. Hopkinson has proven himself to be a leader and mentor in information technology standardization, most recently as the chair of the Canadian Advisory Committee to the ISO/IEC Joint Technical Committee on Information Technology.
Through his work on Canadian and international standards development committees, he has made many important contributions in the areas of IT security and privacy. His expertise and natural leadership abilities have been recognized among his peers, contributing to Canada¹s reputation at JTC 1 as an "honest broker" in resolving conflicting approaches in international standards. At the same time, Mr. Hopkinson has been instrumental in ensuring that the consensus reached reflects Canadian priorities and interests.
Mr. Hopkinson's involvement also includes:
Member of the Canadian National Committee on the International Organization for Standardization (CNC/ISO)
Past Chair of the Canadian Advisory Committee on Information Technology Security (CAC/JTC 1/SC 27)
Member and Past Chair of the Privacy Technology Study Group
Liaison Officer and President of the Information Systems Security Engineering Association