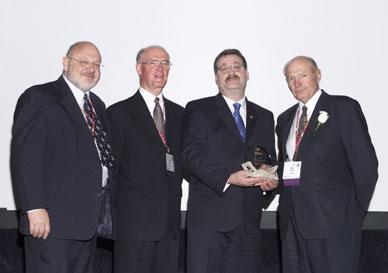 Richard Morris (photo, far right) is the recipient of the 2004 SCC Leadership Award accompanied by Peter Clark, Executive Director of SCC (far left) Hugh Krentz, Chairman of SCC (left), G. Rae Dulmage, Director Standards, ULC (right).
Richard Morris
For nearly half a century, Richard Morris has been at the forefront of efforts to improve fire protection and safety for Canadians. Among his many notable accomplishments are his role in pioneering the use of early warning smoke and fire detectors in Canada, his significant contributions to the development of related standards, and his spearheading of efforts to see these standards referenced in federal, provincial and municipal codes and regulations.
Mr. Morris has held the Chairmanship of the ULC Committee on Fire Alarm Equipment and Systems for 15 years, and has been an active member for 26 years. During this time, the committee (which is harmonized with the ISO/TC 21/SC 3, Fire Alarm Detection and Alarm Systems) has successfully developed more than 20 standards that have become National Standards of Canada, and in some cases been used as the basis for international standards. Mr. Morris has also contributed his expertise to the CSA Subcommittee on Installation Code for Local Fire Alarm Systems and the CSA Smoke Detector Task Group.
For the past eight years, Mr. Morris has also served as the Co-Chair of the USA/Canadian Technical Harmonization Committee for Fire Alarm Systems.
Further evidence of Mr. Morris' commitment and expertise in the area of fire safety is the long list of committees, associations and industry organizations to which he has contributed throughout his career:
Canadian Fire Alarm Association, Founding Director
Canadian Fire Safety Association, Founding Director, Chairman, Education/Scholarship Committee
Ontario Fire and Life Safety Educators Association, Founding Director
Canadian Association of Fire Chiefs, Board Member
Fire Prevention Canada, Past President
National Fire Protection Association, Past Chair
Ontario Fire Marshal's Public Fire Safety Council, Vice-Chairman
Ontario Building Materials Evaluation Commission, Past Chair
Canadian Commission on Building and Fire Codes