Jean P. Carrière Award: 2006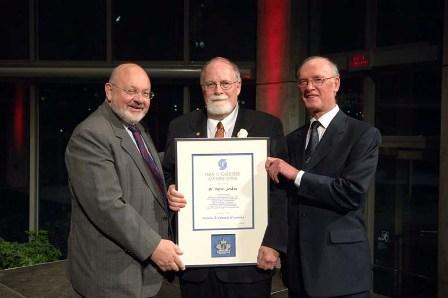 Dr. Byron Jordan (photo, centre) is the 2006 recipient of the Jean P. Carrière Award accompanied by Peter Clark, Executive Director of SCC (left) and Hugh Krentz, Chairman of the SCC (right).
Dr. Byron Jordan
Physicist Dr. Jordan has made significant contributions to the Canadian pulp and paper industry and global paper recycling practices. His scientific innovations and contributions to international standards development have been critical in advancing industry practices while ensuring fair representation of Canadian interests and the elimination of unnecessary trade barriers.
Elected convenor of the ISO working group on the optical properties of paper (ISO TC 6/WG 3) in 2005, Dr. Jordan has contributed to standards development in this area on behalf of Canada for close to three decades.
Among his many remarkable achievements is the development of an innovative method for the measurement of residual ink in recycled paper, which is being used worldwide and adapted as an ISO standard. Also notable was Dr. Jordan¹s discovery of a discrepancy between the Canadian and European brightness calibration and his work to confirm that the Canadian method was the correct one. These efforts are estimated to have resulted in significant savings to the industry.