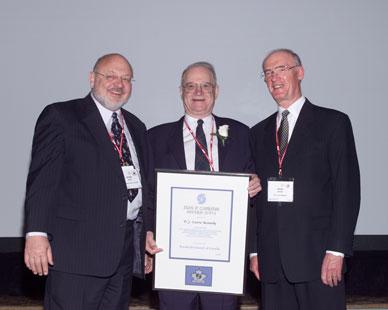 D. J. Laurie Kennedy (photo, centre) is the 2004 recipient of the Jean P. Carrière Award accompanied by Peter Clark, Executive Director of SCC (left) and Hugh Krentz, Chairman of the SCC (right).
D.J. Laurie Kennedy
For the past 40 years, D.J. Laurie Kennedy, a distinguished structural engineer and academic, has been at the forefront of national and international efforts to improve building safety through the modernization of steel construction standards.
His profound understanding of structural design contributed to such forward-looking engineering projects as the Air Canada Pavilion at Expo 67 and the Toronto Leaside Bridge Widening in 1969.  His desire to continue learning and building on existing knowledge and practice has won him numerous academic accolades and honours throughout his career.
Dr. Kennedy's contributions in the area of standardization are also remarkable. Of his many accomplishments, he is best known for his research in and promotion of Limit States Design, which has since become the predominant design philosophy for building standards around the world.
Under Dr. Kennedy's able chairmanship, the Canadian Standards Association's Technical Committee on Steel Structures for Building (CAN/CSA-S16), was the first committee in the Western World to develop a structural steel standard using Limit States Design. Dr. Kennedy's participation in ISO also led to the incorporation of many Canadian design rules in the international standard for the design of steel structures.
Dr. Kennedy continues to serve as the chair of CAN/CSA-S16 to this day, and under his guidance the committee has developed and revised a number of important standards for steel construction. In addition to this work, Dr. Kennedy has participated on a number of other national and international technical committees, subcommittees and working groups, held executive positions with CSA, participated in the development of the National Building Code and been actively involved in various engineering organizations in Canada.