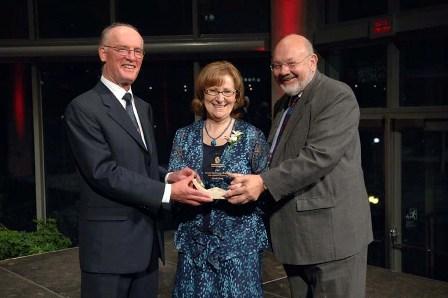 Jeanne Bank (photo, centre) is the recipient of the 2006 SCC Award of Excellence seen here with Hugh Krentz, Chairman of SCC (left) and Peter Clark, Executive Director of SCC (right).
Jeanne Bank
Ms. Bank's contributions to Canadian standardization through committee work and related activities have been pivotal in increasing the role of consumers in standards and conformity assessment.
Working closely with consumer and public interest organizations in her role as Manager of Consumer and Public Affairs at the Canadian Standards Association, Ms. Bank has been a driving force in ensuring that new and revised standards reflect these diverse interests. Testament to her commitment to consumer interests was her election in 2005 as president of the International Consumer Product Health and Safety Organization (ICPHSO).
An active member of the Standards Council of Canada's Consumer and Public Interest Advisory Committee since its inception in 1999, Ms. Bank helped develop policies on consumer involvement in standards and the roles and responsibilities of advisory committee members. She has also been active on Canada's behalf on ISO's Committee on Consumer Policy (COPOLCO) where she serves on the ISO/COPOLCO Chairs Group, co-convenes three international working groups, and chairs the COPOLCO priorities working group.
Ms. Bank's dedication, collaborative nature and sensitive approach to issues and her willingness to mentor new committee members for national and international standardization work, have earned her the respect and admiration of her peers in Canada and around the world. This is evidenced by the frequent invitations from the international community to chair ISO's Committee on Consumer Policy.