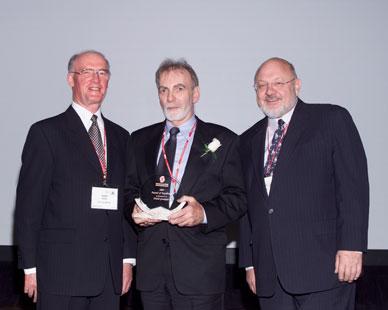 David Goodyear (photo, centre) is the recipient of the 2004 SCC Award of Excellence seen here with Hugh Krentz, Chairman of SCC (left) and Peter Clark, Executive Director of SCC at his (right).
David Goodyear
With over 20 years experience in the areas of codes and standards, David Goodyear has been an invaluable source of technical information in the area of fire protection standards. He has played a prominent role in successful efforts to have ULC fire alarm standards referenced in the Ontario Fire Code.
Despite his recent retirement from the position of Fire Protection Technologist with the Office of the Ontario Fire Marshal, he remains an active member on more than 12 ULC technical committees. He also operates his own consulting company.
In his capacity as the Chair of the Working Group on Residential Fire Warning System Control Units, Mr. Goodyear has continually demonstrated his ability to lead the group and to achieve consensus. He has also been instrumental in developing and revising a range of National Standards of Canada concerning the installation, maintenance and testing of smoke detectors and fire alarms.
Mr. Goodyear's abilities were especially prominent when the 'Standard for Smoke-Alarms' relating to smoke alarms and sleeping children came under public scrutiny in 2003. He was instrumental in promoting the Canadian standards development process as one of the best processes in the world.