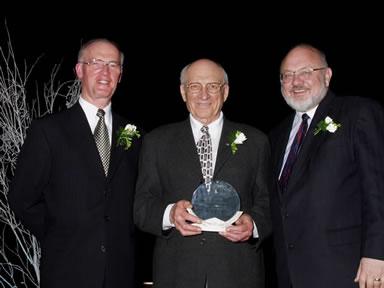 Leonard Adrian (photo, centre) is the recipient of the 2001 SCC Award of Excellence seen here with Hugh Krentz, Chair of SCC (left) and Peter Clark, Executive Director of SCC at his (right).
Leonard Adrian
Mr. Adrian has been involved with the Standards Council of Canada since 1972. This has included membership on the Advisory Committee on Certification and Testing, the Certification Accreditation Sub committee and the Task Group Certification. He was an original member of the Steering Committee that developed the Canadian Procedural Document (CAN-P-3), the document that initiated accreditation of Canadian certification bodies. Mr. Adrian was instrumental in the establishment of SCC's program for the accreditation of Certification Bodies twenty years ago and continues to be an active advisor to staff.
Mr. Adrian also chaired the CSA's Steering Committee on Fire Safety and Fuel Burning Equipment, during the development of 42 fire safety standards; membership with the Fire Marshals Association of North America; membership on the Underwriters' Laboratories of Canada Fire Council; membership with the National Fire Protection Association and President and Secretary Treasurer of the Association of Canadian Fire Marshals and Fire Chiefs. Mr. Adrian's lifelong dedication to development of the national standardization network, his preparation, dedication, attention to detail and thorough knowledge of the Canadian conformity assessment system make him a superb ambassador for the Standards Council of Canada.