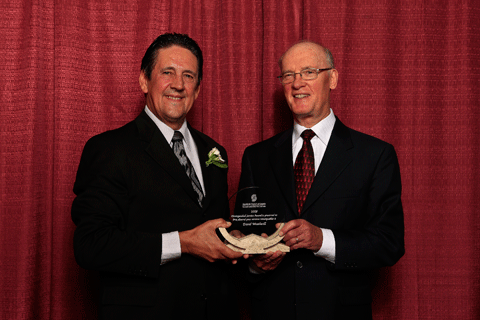 Mr. David Weatherill (photo, left) is the recipient of the 2008 SCC Distinguished Service Award seen here receiving his award with Hugh Krentz, Chairman of SCC (photo, right).
David Weatherill
A volunteer with the Canadian Standards Association (CSA) for 25 years, David Weatherill has demonstrated a commitment to the development and promotion of standards in the field of dialysis.
Mr. Weatherill is one of the founding members of CSA's technical committee responsible for Extracorporeal Circulation (Z259), of which he has been chair since 2003. In the past, he also served as a member of 10 other technical committees, sub-committees and task forces relating to dialysis. His work has helped develop several CSA standards and National Standards of Canada.
Mr. Weatherill's dedication to the area of dialysis also spans to other areas of the community. He helped found and sponsor the Canadian Association of Nephrology Nurses and Technologists (CANNT), and the Georgian College Dialysis Advisory Committee. He also helped establish three summer camps for children receiving dialysis. His community spirit extends to countries around the world, as he has coordinated volunteer efforts, and donated goods and services to hospitals in Russia and the Philippines.
His tireless efforts in promoting patient safety through the development of technical and national standards have earned Mr. Weatherhill the SCC Distinguished Service Award.