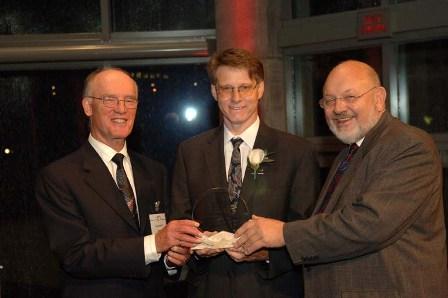 David Zimmerman (photo, centre) is the recipient of the 2006 SCC Distinguished Service Award seen here with Hugh Krentz, Chairman of SCC (left) and Peter Clark, Executive Director of SCC (right).
David Zimmerman
Mr. Zimmerman has demonstrated tremendous dedication and resourcefulness through his extensive contributions to the development of management system standards over the past two decades.
In his current role as secretary to the Canadian Advisory Committee to ISO on quality management and quality assurance (CAC/ISO/TC 176), Mr. Zimmerman has been an indispensable liaison among national and international stakeholders. Of recent note is his role in the development of ISO 19011, guidelines for management systems auditing, which is the first major standard incorporating both quality and environmental management system requirements.
Mr. Zimmerman contributions also extend to the development and improvement of other international and national management systems standards, including the development of Canada's first national standard for occupational health and safety management systems.