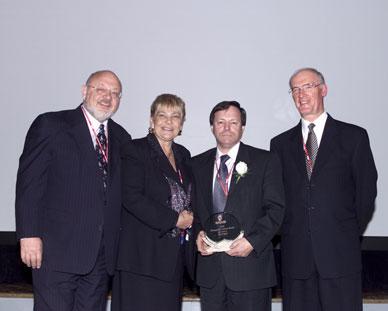 Keith Rodel (photo, centre) is the recipient of the 2004 SCC Distinguished Service Award seen here receiving his award with Peter Clark, Executive Director of SCC (far left), Pat Keindel, President Standards, CSA (left)  and Hugh Krentz, Chairman of SCC (right).
Keith Rodel
Keith Rodel has played a significant role in facilitating the development and application of Canadian and international standards and safety codes for the electrical manufacturing sector for nearly 25 years. He is recognized by his peers for his technical knowledge as well as his outstanding leadership, organizational and negotiation skills.
Mr. Rodel sits on 18 technical committees, subcommittees and working groups at the national and international levels, and holds numerous leadership positions. He is also an active member and Vice President of the Canadian National Committee of the International Electrotechnical Commission (CNC/IEC).
One of the many highlights of Mr. Rodel's work in this realm is his contribution on behalf of electrical equipment manufacturers to the Committee on Canadian Electrical Code (CEC), Part 1. During pivotal discussions, he successfully argued for the development of a Code that would not introduce any new installation requirements that could create obstacles to trade.
As a leader in several CSA technical and standards management committees, Mr. Rodel is dedicated not only to the development of new standards for safety, but to the improvement of existing standards in order create a more uniform approach that is adaptable to a wider marketplace. He was instrumental in harmonizing the requirements for electrical plugs and sockets used in North America and having these requirements recognized in IEC standards.
In addition to his standards development activities, Mr. Rodel has been actively involved with Electro-Federation Canada in efforts to facilitate the use of harmonized standards and to foster the Canadian perspective.  He is a member of the Electrical Equipment Manufacturers Advisory Committee  (EEMAC) Executive Committee, Chair of the EEMAC Wiring Supplies Section, Chair of the EEMAC Wiring Devices Product Committee and Chair of the EEMAC Policy Advisory Committee (E-PAC).