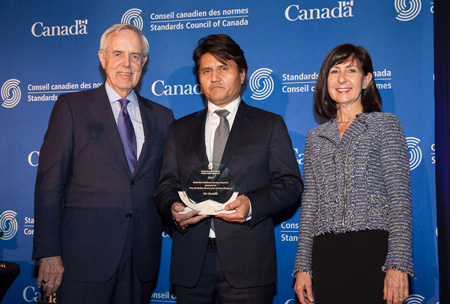 From left to right: John Walter, SCC CEO; Pat Bonnilla, Manager, Canadian Standards Development, SCC; Kathy Milsom, SCC Chair (see more photos from this event)
Pat Bonnilla has over 14 years of experience working in standardization. He currently manages the Canadian Standards Development Program at the Standards Council of Canada (SCC), where he shepherded an initiative allowing SCC to accredit U.S. standards development organizations. Through this initiative, SCC has been able to increase the number of standardization options available to Canadians, and to support the harmonization of standards between Canada and the U.S, thereby reducing technical barriers to trade and facilitating commerce. Mr. Bonnilla's credibility and proven expertise are consistently relied upon as SCC continues its efforts to strengthen Canada's standardization network.
​
Working with SCC
Are you interested in working with Standards Council of Canada? See our listing of current opportunities.