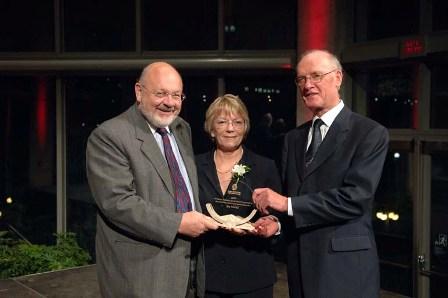 Roz Waddell (photo centre) is the recipient of the 2006 McMahon Dedicated Service Award seen here with Peter Clark, Executive Director of SCC (left) and Hugh Krentz, Chairman of SCC (right).
Roz Waddell
For the last 16 years, Ms. Waddell has played a vital role in ensuring the smooth running of Canada¹s largest technical advisory committee, the Canadian Advisory Committee to the ISO/IEC Joint Technical Committee on Information Technology (CAC/JTC 1) and its 16 subcommittees.
As the Standards Council of Canada program officer for CAC/JTC 1, Ms. Waddell provides administrative support to the committees approximately 450 members. While keeping the committee advised of all relevant information, Ms. Waddell has demonstrated tremendous professionalism, organization and dedication to her job resulting in countless commendations from chairs, secretaries and committee members for her superior knowledge of the committee, her efficiency in responding to all enquiries, and for her consistent, courteous and helpful manner.