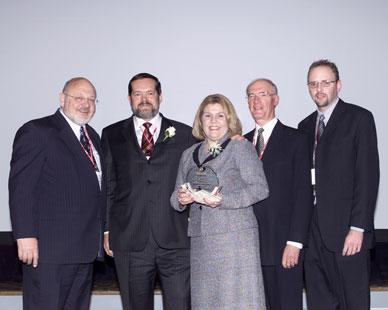 Michel Bourassa (left) is the recipient of the 2004 McMahon Dedicated Service Award seen here with Shannon O'Neill (photo,centre) and Peter Clark, Executive Director of SCC at his (far left) Hugh Krentz, Chairman of SCC (right) and Darryl Kingston, Senior Program Officer, SCC (far right).
Michel M. Bourassa
Since joining the SCC in 1987, Michel M. Bourassa has contributed to efforts aimed at building Canada's profile as an active participant in national, international and regional standardization work.
In his capacity as Director of the SCC's Standards Branch,  Mr. Bourassa oversees Canada's involvement at both the governance and technical levels of the ISO and IEC and related regional organizations of interest to Canada as well as leading the development of policy pertaining to standards in Canada.
His previous roles at SCC included management of standards governance matters, and facilitating the work of Canadian volunteers to IEC and ISO as Senior Program Officer. Mr. Bourassa also served as Secretary of the Canadian National Committee of the IEC (CNC/IEC) where he effectively supported the Committee and represented the interests of the electro-technical sector, facilitating the integration of national and international work at both the technical and governance levels.
Mr. Bourassa actively supported CNC/IEC during its transition to the updated SCC advisory committee structure in 1999, and which included an increased policy role as part of the CNC/IEC's revised mandate. During the past two years, he dedicated significant time and effort in promoting Canada's candidate for the Presidency of IEC, and Canada's hosting of the IEC Meeting in Montreal, in October 2003. He has also supported the work of several other advisory committees, including that of the Consumers and Public Interest Committee (CPIC) and the Advisory Committee on Standards (ACS).
Prior to joining the SCC, he spent more than 18 years in the Canadian electrical manufacturing industry where he held a number of front-line and management positions in product design, testing, production, quality assurance, conformity assessment, and standards.