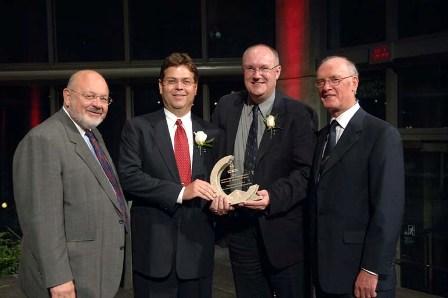 Accompanied by Peter Clark, Executive Director of SCC (left) and Hugh Krentz, Chairman SCC (far right), Egan Cobbold and Roland Rotter (photo, centre) represented Health Canada-Medical Devices Bureau Health Canada and received the 2006 Corporate Commitment Award.
Health Canada-Medical Devices Bureau
Health Canada-Medical Devices Bureau's successful integration of standards and conformity assessment practices into the regulatory framework for medical device licensing is a model for other government bodies in Canada and around the world.
Through its partnership with the Standards Council of Canada to develop the Canadian Medical Devices Conformity Assessment System, the Medical Devices Bureau has succeeded in enhancing the safety and quality of medical devices sold in Canada by employing quality management systems standards and accredited certification as an alternative to traditional regulatory practice.
Health Canada's Medical Devices Bureau has also been an important contributor on Canada¹s behalf to international standards development in the areas of quality management systems, safety of medical devices, and international conformity assessment practices. Additionally, it has worked with the standardization and regulatory communities worldwide in pursuit of memorandums to reduce trade barriers within the medical device manufacturing sector.