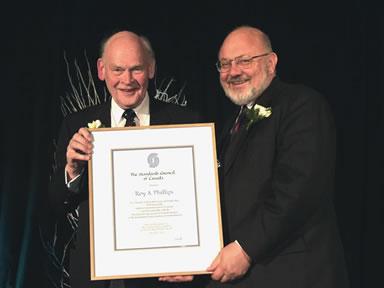 A plaque to commemorate the new award for international work established in his name is presented to Roy A. Phillips in 2001 (photo, left) by Peter Clark, Executive Director of the Standards Council of Canada (SCC).
The Roy A. Phillips Award recognizes distinguished service by a Canadian individual to international standardization efforts.
It was due to the labour of late Roy A. Phillips, distinguished engineer, recipient of the Order of Canada and president of Roy Phillips Advisory Services Inc., that much of the foundation for harmonious international working methods and procedures was conceived and established. Mr. Phillips' ongoing work with the Standards Council of Canada, international standardization organizations and the private sector helped reroute the direction of international trade and policy.
Eligibility Criteria
Candidates for the Roy A. Phillips Award must be able to demonstrate participation, leadership or technical assistance in the development, promotion or implementation of policies, standards or guides (through certification or accreditation programs) that have contributed significantly to international standardization efforts for a period of at least ten (10) years.
Previous recipients