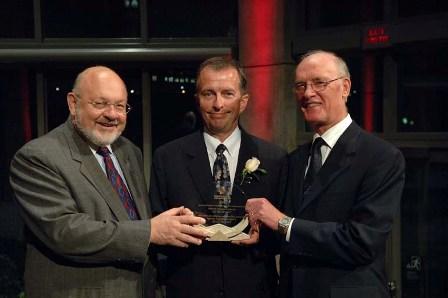 Accompanied by Peter Clark, Executive Director of SCC (left) and Hugh Krentz, Chairman SCC ( right), Jean Bérubé, (photo, centre) represented the  Canadian Advisory Committee on Information Technology for Software Systems and Engineering (CAC/JTC 1/SC 7 and received the 2006 Special Achievement Award.
CAC/JTC 1/SC 7 Software Systems and Engineering
One of the first subcommittees to be established by the Canadian Advisory Committee to JTC 1, the Canadian Software Systems and Engineering sub committee has been active for nearly 30 years, representing Canadian interests in the standardization of processes, supporting tools and supporting technologies for the engineering of software products and systems.
Keeping up with the heavy workload of their international mirror committee JTC 1/SC 7, chaired by Canadian Jean Bérubé, has required a high degree of commitment and dedication from all committee members. The subcommittee has been particularly active in recent years, providing input for 13 standards published in 2003, 79 in 2004, and 11 standards and 14 projects in 2005-2006.