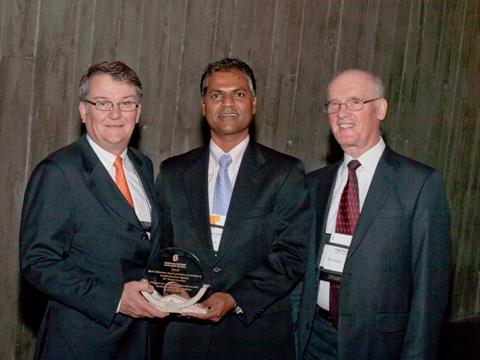 On behalf of CSA, Michael Newlands (photo, left) and Jeet Tulshi (photo, centre) accepted the 2010 SCC Special Achievement Award, accompanied by SCC Chairman, Hugh Krentz (photo, right).
Canadian Standards Association – B51 Technical Committee
The CSA B51 Technical Committee on Boilers, Pressure Vessels and Pressure Piping Code has actively developed and maintained 17 editions of the Code since it was created more than 70 years ago. It is an important part of federal and provincial regulations that helps to ensure public and worker safety around pressure equipment. The Technical Committee is made up of 65 dedicated pressure vessel experts from across Canada who ensure that every edition of the Code reflects new technologies and current industry practices. Recent recognition by the International Standards Organization (ISO) of CSA B51, positions the Code as a viable alternative to other internationally recognized codes for pressure equipment and could potentially allow Canadian built equipment to be more easily accepted overseas.