Standards are more important today than ever before. Having standards in place ensures that many of the products and services we depend on every day work as they should—from Wi-Fi systems to medical devices to the cars we drive.
Today, there are approximately 1,344 standards referenced in Canadian federal regulations. They safeguard the health and safety of Canadians and provide businesses with the tools they need to succeed nationally, regionally and internationally.
But standards don't just protect Canadians or help our businesses thrive. They are also critical to our nation's long-term economic prosperity. To ensure we continue to create the kind of standardization network necessary to support growth, SCC focused on the following three strategic priorities in 2016–17:
As the highlights that follow demonstrate, SCC has continued to take concrete and significant steps over the past year to support these priorities and foster a standardization system that drives innovation, encourages trade and protects our citizen's health and safety, today and into the future.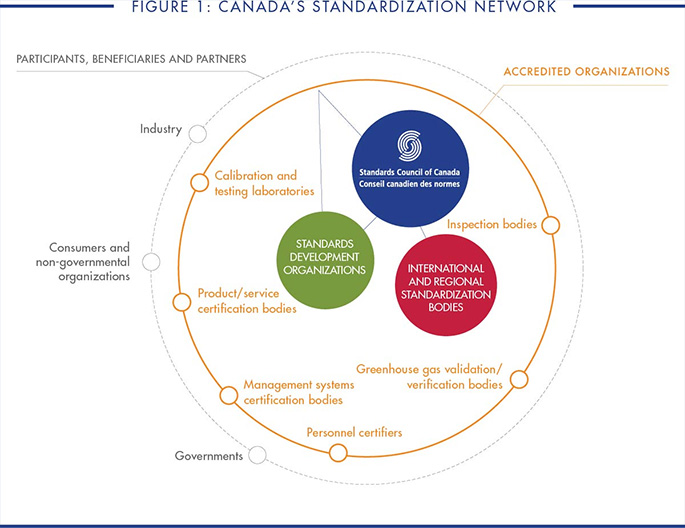 World Standards Day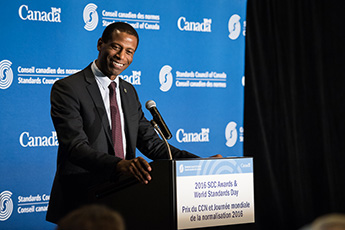 "Getting standards right can help drive innovation, and that's why it's very important to this government's agenda."

Greg Fergus, Parliamentary Secretary to the Minister of Innovation, Science and Economic Development, presenting at World Standards Day 2016.
There is no question that in today's world innovation drives economies. If countries want to compete they must focus their attention and resources not only on research and development but also on helping their innovative technologies make it to market. If Canada is to succeed in this competitive global economy, it is vital that we be first out of the gate in producing and commercializing new technologies. And standards play a critical role in making sure this happens.
If we do not make innovation a priority, we may find ourselves relying on standards developed without Canadian input. That is why SCC continues to cultivate and promote standardization solutions that will help to ensure we become a nation of innovators. Our ambitious goals over the past year reflect SCC's commitment to collaborate with government and industry to kick-start the development of new and innovative Canadian-made technologies, so that our nation can remain competitive in today's global economy and thrive in the years to come.
Propelling Canadian Innovations onto the Global Stage
As part of a pilot project to embed standardization in Canadian innovation, over the past year SCC identified Canadian companies with emerging technologies of potential strategic importance to the Canadian economy. We worked with these innovators to help them successfully navigate the International Organization for Standardization (ISO) and the International Electrotechnical Commission (IEC) standards development process to support them in commercializing their technologies and gaining access to global markets.
Three cutting-edge technologies were selected as part of the pilot project, representing three emerging areas: power utility systems management, marine sensor performance and nanotechnology.
By working with the innovators behind these Canadian technologies, SCC was able to help all three have their standards proposals approved for development and added to their respective international technical committee work plans. This means these Canadian innovators will spearhead the development of the resulting international standardization solutions, and as a result, be able to shape global marketplace rules in support of Canadian interests.
The success of this pilot project clearly demonstrates the role standardization can play in supporting innovation and how SCC can facilitate the federal government's agenda to work with industry to advance technologies that benefit the Canadian economy. SCC intends to build on our success and continue to seek out Canadian innovators so that we can find standardization solutions that will help them commercialize their technologies and compete in the global marketplace.
Building on Our Past Successes
SCC's strategy to support innovation in priority sectors—and thereby become an international standardization leader—has led to recent success. Through this work, we will continue to identify ways to embed standardization earlier in the innovation process by helping Canadian companies lead the development of international standards and conformity assessment programs. By engaging in the standardization process early on, Canadian innovators can be first-to-market with new technologies and gain a competitive advantage in the global marketplace. SCC will continue to work with Canadian innovators throughout the process to provide guidance, advice and support in navigating the international standardization system.
This strategy will allow SCC to continue working with targeted industry sectors that have the greatest potential to boost Canada's competitiveness.
"The importance of getting involved in standardization became abundantly clear when I stepped into my first ISO technical committee meeting and saw all my competitors and clients sitting around the table—if my business is going to remain among industry leaders, we need to be engaged in international standardization from the start."

Dustin Olender, Director of Design and Manufacturing of AML Oceanographic and Project Lead for the Marine Sensor Performance New Work Item Proposal.
Bringing Canadian Experts into Standardization
To identify and seize upon opportunities in the global marketplace, we need Canadian experts to be involved in the international standardization arena. SCC realizes this, and that is why we set a target to increase the number of subject matter experts representing Canada on international standards committees by two per cent in 2016–17. Not only did we reach our target, but we nearly doubled it. By the end of the fiscal year, the number of registered SCC members on international committees stood at 3,276, an increase of almost four per cent over the previous year.
It was no accident that SCC exceeded this target. Throughout the year, SCC staff worked hard to recruit the most qualified experts in strategic areas to become involved in standardization and strengthen Canada's voice on the global stage. These experts work within regional and international forums to ensure the needs of Canadian stakeholders are represented. This strategy is part of SCC's mission to both lead internationally and provide value to Canada, and will continue to be emphasized in the coming year and into the future.
Everything SCC does is in support of its mandate to lead a strong standardization network that protects consumers, promotes domestic and international trade, supports sustainable development and advances Canada's national economy. To position Canada for the future, SCC has made it a priority to ensure that standardization effectively supports the objectives and strategies of both government and industry.
Providing Effective Regulatory Tools for Government
Our governments are responsible for protecting the health, safety and security of Canadians. Regulations are the primary means by which they do this. In 2016–17, SCC continued to work closely with federal departments and agencies to monitor the standards referenced in Canadian regulations and ensure they are effective, relevant and up-to-date. SCC's Monitoring of Standards in Regulations (MSR) program has provided data and analysis to nine federal departments and agencies about the standards referenced in their regulations. This engagement helps to ensure standards remain a viable instrument of choice for Canada's regulators. It also ensures they are systematically assessed and prioritized as part of the governments' annual planning and reporting processes, so that they continue to safeguard the health and safety of Canadians and support Canada's trade and commerce goals.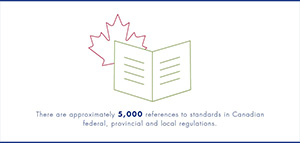 In addition, SCC is now working with senior officials at ISED, the Treasury Board of Canada Secretariat and the Department of Justice to finalize Incorporation by Reference Guidelines for future use by federal, provincial and territorial governments. These guidelines will provide guidance on how to incorporate standards in regulation to achieve public policy objectives. SCC also agreed to meet with federal departments to review their 2016–17 standardization goals and to advise them on how to establish future priorities that will ensure standardization continues to benefit Canadians.
Fostering Continuous Improvement of Canada's Standardization Network
As the leader of Canada's standardization network, we need to keep innovating and improving our own processes so we continue to provide value to Canada. That is why SCC is forging stronger relationships with regulatory advisory bodies to ensure that standards, conformity assessment procedures and other regulatory tools are up-to-date and aligned across the country.
In June 2016, SCC's application to fill the role of secretariat of the Canadian Advisory Council on Electrical Safety (CACES) was unanimously supported. By taking on this new role with CACES—an independent organization that consists of members from all 13 provinces and territories, participating accredited organizations, Health Canada and SCC—SCC will be able to better coordinate activities and decisions on standards, conformity assessment procedures, and other recognized documents in the electrical safety sector. This is an important step forward in our ongoing work to modernize standards governance in Canada.
In November 2016 SCC also signed an MOU with the Interprovincial Gas Advisory Council (IGAC) and in March 2017 with the Canadian Regulatory Council on Plumbing (CRCP). As with CACES, SCC provides secretariat coordination to the regulatory members of IGAC and CRCP. These agreements allow for more formal collaboration between SCC and these Regulatory Authority Advisory Bodies (RAABs) and will lead to greater coordination related to standards, regulations, conformity assessment procedures, and other recognized documents. SCC is also exploring opportunities for similar agreements with other interested RAABs. By strengthening and expanding our relationship with these regulatory bodies, we can help ensure that regulations are better aligned and up-to-date.
SCC continues to be an active member of the National Public Safety Advisory Committee (NPSAC), a national forum for federal, provincial and territorial regulators that facilitates policy solutions for standardization-related matters in the public safety realm in Canada. SCC has provided Secretariat coordination to NPSAC since April 2008.
2016 Standards Council of Canada Awards
As part of the Standards Council of Canada's World Standards Day 2016 event, Canada's national awards in standardization were presented to recognize the commitment of individuals, organizations and committees who dedicate their time and expertise in support of Canada's national standardization network.
Hugh Krentz Award: G. Rae Dulmage has held positions of increasing responsibility in Canadian and international standards over the past 30 years. From 2002–2016, he served as Director of the Standards Department, External Affairs and Government Relations Office at Underwriters Laboratories of Canada (ULC). He has served as
Chair of the Standards Development Organization Advisory Committee at the Standards Council of Canada; Chair of ISO PC 245, Cross-border trade of second-hand goods; Standards Development Organization Representative on the Canadian Commission on Building and Fire Codes; and an active member of the National Public Safety Advisory Committee as well as various other committees. Before joining ULC, Mr. Dulmage was Manager of the Standards Program at the Standards Council of Canada, and prior to that, Vice-President at Certelecom Laboratories Inc.
SCC Young Leader Award: As Project Manager for ULC Standards, Mark Ramlochan contributes valuable expertise on standards-related matters in Canada and abroad. He has effectively managed dozens of Canadian standards development and international mirror committees, has represented the needs of Canadians in drafting policy for the Society of Standards Professionals (SES), and continuously seeks to further his knowledge in support of the technical committees he manages. Mr. Ramlochan is always strategic in his focus and is able to effectively balance organization and humour while carrying out his functions as technical committee manager.
Corporate Commitment Award: The Mental Health Commission of Canada has been instrumental in the development and advancement of the standard for psychological health and safety in the workplace. The Commission has presented more than 120 national and international lectures and workshops on the standard, produced a series of free tools, publications and webinars, and developed formal and informal communities of practice in targeted sectors to share knowledge and resources across Canada. The Commission has also worked with CSA Group and the Bureau de normalisation du Québec (BNQ) to submit an international standards development proposal based on the Canadian standard.
Committee Achievement Award: ULC S700A is a technical committee, managed by ULC Standards, that develops and maintains standards, guidelines, and test methods for thermal performance and energy use of materials and systems in the built environment. The work performed by the committee has been so valuable in ensuring the health and safety of consumers that many of its standards have been referenced in the National Model (Building) Code of Canada and are published as International Standards by the International Organization for Standardization (ISO).
McMahon Dedicated Service Award: Lynne Gibbens has been with the Standards Council of Canada for more than 16 years. During this time, she has become known for her professionalism, work ethic, and expertise. Most notably, Ms. Gibbens revitalized the Canadian National Committee of the International Electrotechnical Commission (CANC/IEC). Her success in this work engaged many high-level industry players to contribute for the very first time on international standardization issues. Ms. Gibbens enhances the quality of committee participation in her role as alternate member of the IEC Standardization Management Board and members of SCC staff regularly rely on Lynne's leadership and support given her depth of knowledge and passion for her work.
Supporting the Canadian Free Trade Agreement
Canadian provinces and territories often have different rules, requirements and certifications that can create internal barriers to trade. These barriers restrict the mobility of some products, tradespeople and certified professionals. In some cases, they can even make trade within Canada's own borders more difficult than trade with other countries. Aligning standards and conformity assessment requirements across the country will not only reduce red tape for businesses, it could also result in greater choice—and lower prices—for consumers.
To remove unnecessary trade barriers and encourage the freer flow of goods and workers within Canada, SCC has focused on identifying and supporting the alignment of standards in priority sectors. By working with governments to monitor standards referenced in regulation, SCC is promoting cooperation between provinces and territories with the aim to align standards and reduce duplicative certification requirements across jurisdictions. In the process, we are supporting free trade within Canada and making Canadian businesses more competitive in the global marketplace.
Federal, provincial and territorial governments are committed to implementing the Canadian Free Trade Agreement (CFTA) in order to remove internal trade barriers. By working with the Provincial-Territorial Advisory Committee (PTAC) and the National Public Safety Advisory Committee (NPSAC), SCC is supporting efforts to align standards and regulations across Canada, in support of CFTA implementation. These actions enable regulatory reconciliation—the process through which governments can harmonize their regulations and eliminate internal trade barriers. SCC has already completed inventories of standards incorporated by reference in the regulations of all participating provinces and territories. We are now working with PTAC to encourage discussions between provinces and territories that would identify opportunities to harmonize regulations. SCC is also working with PTAC to identify and prioritize sectors in which regulatory reconciliation could offer the greatest benefits for Canadian businesses.
SCC also collaborated with industry to develop a research report on internal barriers to trade within Canada, which will be published in 2017–18. The report will outline opportunities to break down or avoid establishing these trade barriers in four industry sectors: tower cranes, water heaters, liquefied natural gas, and recreational vehicles.
Looking to Standards to Adapt to Climate Change and other Environmental Challenges
Our climate is changing and standards also need to change if we want to reduce the risks that come with this new reality. In 2016–17, SCC continued to work with stakeholders across the country to deliver standardization solutions that will help governments and citizens adapt to climate change, particularly when it comes to infrastructure.
To meet the urgent need to ensure Canada's infrastructure is climate-ready, SCC has initiated a program to support updates to a broad range of existing standards currently referenced in federal, provincial and territorial regulations and codes. In doing so, SCC will give stakeholders the information they need to insert climate considerations into critical new or updated infrastructure standards.
As part of Canada's action on climate change, SCC was provided with funding this year to help develop standardization solutions that consider expected climate change impacts on critical Canadian infrastructure. In order to ensure infrastructure is climate-resilient, stakeholders need tools to incorporate climate information into Canadian infrastructure design values. New and updated standards, guidelines and specifications that incorporate climate change considerations will ensure that our country is better prepared for the climate-related challenges that lay ahead.
Standards can also help promote innovative technologies that address and combat other environmental problems by establishing a way to prove they perform as expected and provide the services promised. SCC has worked with Environment and Climate Change Canada since 2012 to lead the development of an International Standard on Environmental Technology Verification. In 2016, that international leadership led to the publication of ISO 14034:2016, Environmental management—Environmental technology verification (ETV). This standard aims to provide credible, reliable and independent verification of the performance of environmental technologies.
NISI PHASE II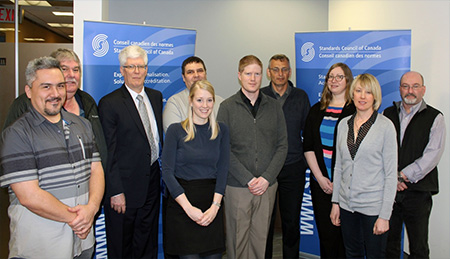 In January 2017, the Northern Advisory Committee (NAC) met to kick-off Phase II of the Northern Infrastructure Standardization Initiative. The NAC is comprised of representatives from Yukon, the Northwest Territories, Nunavut and Nunavik, and is essential to the success of NISI. Members of the NAC include (from left to right) Paul Parsons, Gary Collins, Watson Fournier, Nelson Pisco (Phase II Chair), Christine Moore (SCC Program Manager), Daniel Brown (Indigenous and Northern Affairs Canada), Mike Burns (Phase I Chair), Olivia Lee, Jennifer MacGillivray, Mark Cronk.
Supporting Climate Resiliency in Canada's North
Canada's North is particularly vulnerable to the impacts of climate change and SCC has been working hard to provide standardization solutions to build resiliency in northern communities. The Northern Infrastructure Standardization Initiative (NISI) was launched in 2011 with the support of Indigenous and Northern Affairs Canada. Its goal is to address the unique challenges facing Canada's North when it comes to climate change through the effective use of standards. Early on, SCC engaged representatives from Yukon, the Northwest Territories, Nunavut, and the region in northern Quebec known as Nunavik to form the Northern Advisory Committee (NAC).
In consultation with the NAC, SCC helped develop five standards focusing on key issues including building in permafrost, snow load management, and community drainage plans. As part of Phase I of NISI, all five standards have now been published as National Standards of Canada (the fifth was published in February 2017). These five standards will help provide mechanisms to adapt and reduce the vulnerability of northern infrastructure to the impacts of climate change. To build adaptation capacity within northern communities, SCC also facilitated the development of training and communication materials on how to apply the standards, including in-class sessions conducted by CSA Group that took place in Inuvik in November 2016 and in Yukon in March 2017. These standards and the accompanying training will help building owners and those responsible for public and community infrastructure to construct and maintain resilient infrastructure in the years to come.
Building on the success of the first phase of NISI, SCC launched a second phase that will continue to address critical climate-related issues that face Canada's North. With the help of the NAC, NISI Phase II (2016–2020) will bring together infrastructure experts to develop seven additional standards in areas such as wastewater treatment, selection of foundation types, fire-resistant building materials, high-wind adaptation techniques, and erosion protection in northern communities.
World Accreditation Day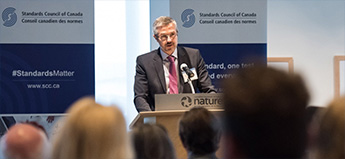 On June 1, 2016, SCC celebrated World Accreditation Day. Karsten Mecklenburg, Counsellor and Head of the Economic and Trade Section at the Delegation of the European Union (EU) to Canada, presented the keynote on the important role standards will play in implementing the Comprehensive Economic and Trade Agreement (CETA) between Canada and the EU.
"Accreditation is a fundamental pillar of standardization, particularly in an international framework. We all want to remove unnecessary hurdles and red tape, as well as reduce additional costs for industry—notably small and medium-sized enterprises—as well as for consumers."

Karsten Mecklenburg, Counsellor and Head of the Economic and Trade Section at the Delegation of the European Union (EU) to Canada, presenting at World Accreditation Day 2016.
Delivering Innovative Accreditation Solutions
SCC's Accreditation Services Branch (ASB) helps strengthen the quality of products, systems and services used by Canadians every day by offering in-depth technical expertise that is part of a strong and effective standardization network.
This past year, as part of a three-year plan, ASB completed a strategic review of its ten accreditation programs, looking at market stability and growth, industry and government priorities, and overall financial performance. The review led to concrete recommendations and timeframes for future offerings and their associated cost structure, and will support ASB's continued focus on delivering accreditation solutions that benefit Canadians.
A customized Business Management Solution (BMS) to improve the Branch's workflow, efficiency and productivity is a major element in ASB's innovative new service delivery model. The BMS was developed and tested throughout 2016–17 and is on track to be implemented in 2017–18. Once launched, this new tool will enhance SCC's ability to consistently deliver high-quality assessments and provide even better customer service.
As part of World Accreditation Day 2016, SCC hosted a celebration with the theme of Accreditation: A global tool to support public policy. The event featured keynote speaker Karsten Mecklenburg, counsellor and head of the Economic and Trade Section of the European Union's (EU's) Delegation to Canada. He spoke about the Comprehensive Economic and Trade Agreement (CETA) between Canada and the EU and the important role that standardization will play in it. In particular, he pointed to CETA as the framework for mutual recognition of conformity assessment.
---
Number of accreditation services branch customers, by program area*
| Program Area | 2015—2016 | Change | 2016—2017 |
| --- | --- | --- | --- |
| Laboratories - Medical | 2 | No Change | 2 |
| Laboratories - General | 226 | Increased | 230 |
| Laboratories - SCC partners | 94 | No Change | 94 |
| Good Laboratory Practice (GLP - OECD) Recognition | 46 | No Change | 46 |
| Product certification bodies (ISO/IEC Guide 65) | 40 | Decreased | 37 |
| Management systems certification bodies (ISO/IEC 17021) | 23 | No Change | 23 |
| Personnel certification bodies (ISO/IEC 17024) | 5 | No Change | 5 |
| Inspection bodies (ISO/IEC 17020) | 19 | Increased | 21 |
| GHG verification bodies (ISO 14065) | 6 | Decreased | 4 |
| Standards development organizations | 8 | Increased | 10 |
| TOTAL NUMBER OF ACCREDITATIONS ISSUED | 469 | Increased | 472 |
*Includes applicants as well as customers who have been accredited or suspended.
Modernizing the Canadian Standards Development Program
As the leader of Canada's standardization network, SCC strives to be innovative, responsive and efficient in its approach to standards development. We regularly consult with stakeholders about their needs. This year, SCC worked closely with the Standards Development Organizations Advisory Committee (SDOAC) to modernize and improve the Canadian standards development system. The changes are based on international best practices and will offer a simpler and more efficient development process, while still maintaining the integrity and value of National Standards of Canada (NSCs).
The proposed changes include allowing the self-declaration of compliance for National Standards of Canada by SCC-accredited standards development organizations, updating the duplication resolution process to include more proactive SCC facilitation of complaints and simplifying and clarifying program requirements.
Employee Recognition Awards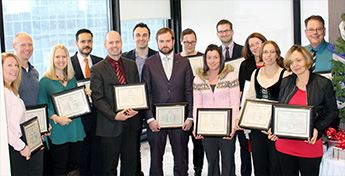 Each year, SCC presents Employee Recognition Awards for staff to honour their years of service and to thank them for their ongoing commitment and contributions to the organization's success.
SCC Vice-President, Strategy and Stakeholder Engagement Branch Michel Girard presented this year's awards during the organization's Town Hall meeting on December 12, 2016. Receiving awards were (from left) Debbie Montgomery, Jeff Stoski, Nadine Hubert, Alejandro Trujillo, Quinn Redekop, Visar Mahmuti, William O'Neill, Anneke Olvera, Valerie Lefebvre, Keith Jansa, Nancy Beerkens, Christine Geraghty, Rania Zedek and Dan Goldie. Honourees who were not present to receive their awards included Christina Cole, Karyn Crawford, Rassoulou Diallo, Kelly Montgomery and Greg Slingerland.
Investing in a Culture of Excellence and Innovation
Through 2016–17, SCC remained focused on staff development, training and succession planning to ensure we maintain high-performance teams that have the skills needed to deliver value to Canada, today and in the future.
To this end, SCC's Senior Management Committee created a new organizational approach to address issues raised in the most recent employee satisfaction survey. SCC also developed a Human Resources Strategic Plan to enhance and strengthen capacity, support a high-performance culture and optimize human resources infrastructure, policies and tools. As part of this plan, SCC is now in the process of developing and implementing a competency-based talent management system to inform staff development plans and foster a high-performance culture.
SCC has also developed an orientation module outlining SCC's core values and implemented a plan to foster mental health awareness through sessions on mental health issues and by establishing an employee-based Mental Health Committee. The organization is also developing succession strategies for all critical positions. This multi-pronged approach to human resource management is fueled by SCC's desire to promote a healthy, supportive and respectful workplace where all employees are both valued and respected.
Canada's long-term economic prosperity depends on its ability to leverage opportunities in global markets. In 2016–17, SCC focused on strategically positioning Canada as a leader within key regional and international standards bodies to give Canada the competitive edge it needs to do this. By providing a strong voice for Canada on the international stage, SCC is helping to increase trade opportunities for Canadian businesses and ensure our nation's interests are represented.
Providing Canada with a Strong Voice on the World Stage
Although SCC has always strived to be a leader in international standardization, 2016–17 saw the organization take concrete steps to give Canada an even stronger voice on the world stage. In September 2016, SCC CEO John Walter was elected as the next president of the International Organization for Standardization (ISO) after being nominated by the American National Standards Institute, SPRING Singapore, Mexico's Dirección General de Normas and the Netherlands Standardization Institute.
Mr. Walter began serving as president-elect on January 1, 2017, and will serve a two-year term as ISO President effective January 1, 2018. Over the past year, he has continued in his role as SCC's CEO while assuming the additional responsibilities of his new position at ISO.
In 2016–17, SCC Vice-President, Accreditation Services Branch, Chantal Guay was also appointed as the convener of the Strategic Alliance and Regulatory Group (STAR) within CASCO, the ISO's committee on conformity assessment. In this new role, she will help facilitate the exchange of knowledge and experience with international partners in order to ensure CASCO's consideration of overarching themes and items of concern to Canada. SCC also supported the successful nomination of Luc Boutin, a leading Canadian industry expert, as chair of the International Electrotechnical Commission (IEC) Standardization Management Board Advisory Committee on Energy Efficiency.
Having Canadians in these prominent positions ensures that Canada has a strong voice internationally. SCC has sought out further opportunities to build on our leadership role and continue driving innovations forward. For instance, SCC led an International Workshop Agreement (IWA) on the "sharing economy" in March 2017, in cooperation with Innovation, Science and Economic Development Canada's Office of Consumer Affairs (OCA) and CSA Group. Stakeholders from 15 countries—representing consumer organizations, government, industry and academia—came together in Mississauga, Ontario, to adopt specific guidelines that will be proposed in the Shared Economy IWA. The document provides guiding principles and a framework for decision-making and action to address key social, environmental and economic impacts and opportunities of the sharing economy. By hosting the meeting, SCC was able to make sure Canadian stakeholders played a key role in developing the document, which may be used as the basis of a future national or international standard.
SCC also continued plans to host the 32nd Plenary of ISO/CASCO in spring 2017. Standardization professionals from around the world will gather in Vancouver for the event, which will include an ISO workshop on Growing the services industry with ISO standards. By playing host to this event, SCC will demonstrate SCC's—and Canada's—commitment to international standardization.
Building Key Relationships to Strengthen and Diversify Trade
International trade is critical to Canada's long-term economic health. By working bilaterally, regionally and globally with key trading partners, SCC is helping to open up new markets for Canadian businesses and providing Canada with a strategic advantage.
As more and more countries move towards protectionism, the Canadian government continues to promote new and progressive approaches to trade and international collaboration. To support this government priority, SCC is continuing to develop our relationships with international stakeholders in order to reduce barriers to trade and advance Canadian interests.
USA
Canada trades more with the United States than with any other country. Aligning standards with our neighbour to the south is key to reinforcing our role as a constructive and effective trading partner. Joint Canada-U.S. standards not only ease the flow of goods across our borders, but also reduce duplication, increase the efficiency of supply chains, lower costs for exporters and importers, and support new and emerging technology sectors.
To encourage this harmonization, SCC is engaging key industry leaders to identify sectors that would benefit from the development of joint Canada-U.S. standards. In 2016–17, SCC partnered with Standards Development Organizations (SDOs) to develop five joint Canada-U.S. standards that fulfilled all requirements as national standards in both countries. Over the year SCC-accredited SDOs posted 36 notices of intent to develop joint Canada-U.S. standards that will further harmonize standards with our largest trading partner and benefit businesses on both sides of the border.
The importance of bilateral, regional and international alignment was also highlighted at this year's World Standards Day. The theme for the event was Standards Build Trust and it featured keynote presentations from Greg Fergus, Parliamentary Secretary to the Minister of Innovation, Science and Economic Development, as well as Maryscott "Scotty" Greenwood of the Canadian-American Business Council. Ms. Greenwood pointed out that there are more than 100,000 standards in use in the United States, but only a small percentage are harmonized across North America. She stressed the need to bring together all stakeholders in order to further align standards regionally, an emphasis that supports SCC's proactive and collaborative work with Canadian stakeholders and SDO partners.
SCC is also working with key sectors to develop joint Canada-U.S. conformity assessment programs. This past year, SCC collaborated with the BC Association for Crane Safety (BC Crane Safety), the Canadian Hoisting and Rigging Safety Council (CHRSC) and the National Occupational Council of Canada (Natoc) to determine the best way to move forward in mutually recognizing the qualifications of U.S. and Canadian crane operators. Eliminating the need for duplicative certifications by having the qualifications of these workers mutually recognized would provide workers and businesses in both countries with increased opportunities.
China
China is Canada's second-largest trading partner, and our trading relationship is growing. In 2015, Canada's exports to China rose 4.2 percent and the import of Chinese goods increased by 9.4 percent. But this trading relationship could be expanded even further through the alignment of standards and SCC has been taking steps to see this happen.
In September 2016, SCC and the Standards Administration of China (SAC) renewed and strengthened their Cooperation Agreement, paving the way for increased collaboration and the alignment of standards between our countries. The agreement formally recognizes the importance of working together, exchanging views and engaging in dialogue to facilitate the development and use of standards. It will strengthen Canada's relationship with China in the future and help ensure that our respective standards do not create trade barriers. This past year, SCC also became a member of the Canada-China Joint Committee (CCJC) on Science, Technology and Innovation Cooperation. This new role offers SCC the chance to influence Canada's strategic direction when it comes to collaborating with China in the areas of science, technology and innovation.
SCC CEO, John Walter, was also invited by the Chinese government to become an advisor on the China Standardization Expert Committee (CSEC). The CSEC is China's supreme authoritative advisory body in the field of standardization and provides direction for its policies on standardization and its participation in international standardization activities. Mr. Walter's presence on this committee will give Canada a leadership opportunity and encourage cooperation between the two countries.
As Canada considers a possible Canada-China Free Trade Agreement, SCC is working with the federal government to include standardization as part of the agreement. Although these discussions are still in the early stages, SCC is committed to strengthening our relationship with China and finding ways to further increase trade opportunities for Canadian businesses and innovators. Identifying standardization needs in these initial discussions will help to facilitate trade and eliminate barriers.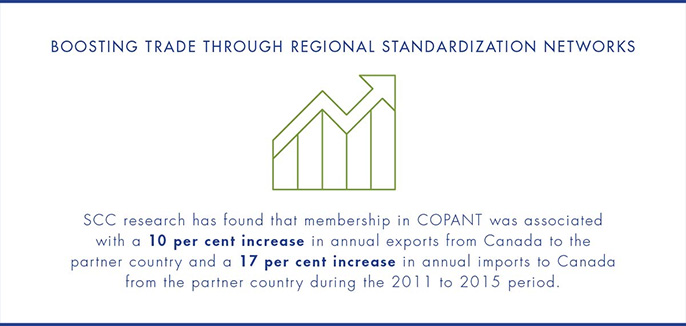 European Union
The landmark Canada-European Union Comprehensive Economic Trade Agreement (CETA) was approved by Canadian and European parliaments in 2017. CETA is a ground-breaking trade agreement that will reinforce Canada's important economic relationship with the European Union (EU).
It covers all aspects of trade, including goods, services, investment, government procurement and regulatory cooperation. CETA will provide Canadian businesses with access to the world's largest market,
as the EU represents more than 500 million people in 28 countries and a combined GDP of $20 trillion.
In June 2016, SCC and the European co-operation for Accreditation (EA) also signed a bilateral Cooperation Agreement to facilitate the implementation of the CETA's Conformity Assessment (CA) Protocol. The protocol is designed to allow for the mutual acceptance of test results and product certifications by Canadian and EU-recognized bodies and will ultimately support increased trade to the EU for Canadian companies. To kick start this agreement, SCC is developing a stakeholder engagement strategy and SCC and the EA have already started to identify potential product categories to be included under the protocol. SCC also hosted an information session on CETA and the CA Protocol in March 2017, to provide Canadian regulators and conformity assessment bodies the opportunity to provide feedback on the process going forward.
Building on our existing Cooperation Agreement with the European Committee for Standardization (CEN) and the European Committee for Electrotechnical Standardization (CENELEC), this past year SCC successfully applied to become a Companion Standardization Body member of CEN. This membership will create new opportunities for Canadian businesses by providing insight on standards-related strategic developments in Europe, supporting technical alignment within major European markets and allowing Canadian stakeholders to participate in CEN committees.
Regional partnerships
Participation in regional standardization organizations is a critical part of SCC's vision to be an international standardization leader. This past year, SCC continued to build on its reputation as a regional leader and trusted advisor by strengthening its collaboration and strategic involvement with important regional standardization bodies, such as the Pan American Standards Commission (COPANT) and the Pacific Area Standards Congress (PASC).
In 2016–17, SCC took part in the annual meetings of COPANT and PASC to help develop and implement their strategic plans and set priorities for the year ahead. This allowed SCC to ensure these plans align with SCC's strategic initiatives and ultimately enhance trade opportunities for Canada. In recognition of the leadership role SCC plays within their respective regions, and the contribution the organization makes regionally, COPANT and PASC members also unanimously supported SCC CEO John Walter's successful nomination as ISO President.
INTECO Attestation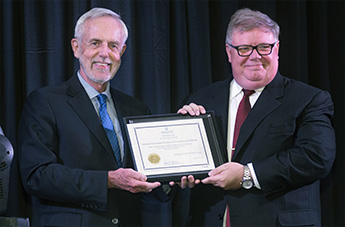 In March 2017, John Walter (left) presented a Certificate of Attestation on behalf of SCC to Cristián Leñero, President of the Instituto de Normas Técnicas de Costa Rica (INTECO).
Embracing our role as a regional standardization leader, SCC also agreed to jointly host the 2017 annual meetings of COPANT and PASC. The theme for the spring 2017 meetings is Regional Collaboration in a Global Environment. This reflects SCC's strong belief in the need for greater regional cooperation to leverage each other's strengths and ensure a strong regional voice at the international level.
SCC also continues to support other countries as they build their standardization capacity. For example, the organization was asked to conduct a third-party assessment of Costa Rica's Instituto de Normas Técnicas (INTECO) standards development process and attest to their compliance with guidelines set out in the World Trade Organization Technical Barriers to Trade Agreement. This clearly demonstrates the leadership role SCC plays and that the organization is viewed as a trusted advisor.
As a respected voice on standardization, this past year Mr. Walter was invited to speak to Australian stakeholders about SCC's innovation agenda and success in engaging stakeholders. He also provided a video introduction for Ecuador's Servicio Ecuatorio de Normalización (INEN) World Standards Day celebration. These opportunities not only demonstrate Canada's position as a standardization leader, but are also a chance to highlight the importance of aligning standards in order to reduce trade barriers and allow businesses to compete globally.