On International Women's Day, the world comes together to celebrate and recognize women, their achievements and contributions. It is a great opportunity for us to reflect on what we are doing and what more can be done to achieve a more gender-balanced world for the 3.75 billion women worldwide.  
This year's theme, #BalanceforBetter, recognizes that "gender balance is essential for economies and communities to thrive."  And research shows us that inequality is costly. For instance, McKinsey Global Institute estimates that the global economy could be $28 trillion higher in 2025 alone if the gender gap in employment was fully closed.  When companies increase employment and leadership opportunities for women, they benefit: estimates show that companies with more women in management positions score higher in terms of organizational performance. 
Canada is a leader in advocating and promoting gender equality. In the last 50 years the percentage of working age women who are in the labour force has increased substantially from 38% to 83%.  
At the Standards Council of Canada, we have also made great strides. Chantal Guay recently became the organization's first female CEO. Over 50% of employees are women and women also represent over 50% of employees in senior management. We are very committed to supporting strategies to make women's experience an integral dimension in the design, implementation, monitoring and evaluation so that women and men benefit equally from standardization and vice versa. 
Having a female CEO at the helm is a start towards our goals to gender equality in the standardization world. SCC strives to do its part and contribute to consequential solutions. Although this is an area where SCC excels, there remains room for women's representation in senior leadership positions in the private sector   and there is ample room for women to be represented further in standardization at the international level.  
Currently, Canada has over 3,000 expert volunteers who help develop international standards through participation on ISO/IEC mirror committees. While women represent 48% of the labour force from which experts are drawn, they account for 20% of mirror committee members. Standards and engaging in their development are opportunities for women's further empowerment.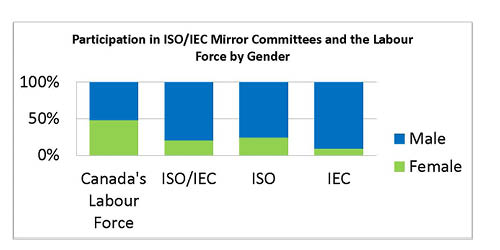 Standards ensure that most products, services and processes work as intended. They shape the products we use, how we work and play. Developed by panels of expert volunteers, female representation on these panels is another opportunity to ensure that the results are gender-responsive.
Recognizing this opportunity to improve gender balance, SCC is working with its strategic partners nationally and internationally to attract and grow the participation of women in standardization. As part of the UNECE Gender Responsive Standards Initiative, SCC's CEO, Chantal Guay, will be signing the Declaration for Gender Responsive Standards and Standards Development. To that effect, SCC is taking steps to increase the representation of women in standardization and to ensure that standards are gender neutral.
These are important actions to ensure that standardization works for all Canadians.