The Standards Council of Canada (SCC) and CSA Group today announced the publication of two new National Standards of Canada (NSC) that will help manage increased risk to Northern infrastructure under a changing climate. These NSC are two from a suite of several new innovative standards under development that will help provide tangible and long-term improvements for those living in Canada's North. The impact of climate change in the North is a key priority for the Government of Canada.
The two new NSC were developed as part of the Northern Infrastructure Standardization Initiative (NISI), led by SCC. The NISI Northern Advisory Committee, comprised of representatives from Northern territorial and regional governments, is one of the many ways through which SCC is collaborating with federal, provincial and territorial governments to improve Canadians' daily lives.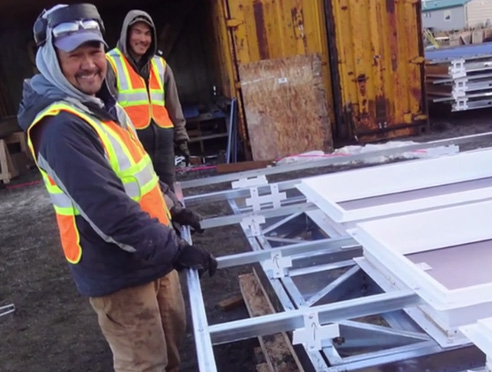 Two new National Standards of Canada, developed as part of the Northern Infrastructure Standardization Initiative, are from a suite of several innovative standards under development that will help provide tangible and long-term improvements for Canada's Northerners.
CAN/CSA-S501-14 Moderating the effects of permafrost degradation on existing foundations standard outlines the steps to be taken in order to maintain, assess and mitigate permafrost loss beneath and adjacent to existing buildings. Permafrost is soil and sediment that remains at or below 0°C for at least two consecutive years, while the active layer is the upper part of the soil environment that thaws every summer. Building on permafrost can be difficult because degradation to the permafrost can destabilize the structure. Also, many of the existing buildings in the North were designed without considering climate change or were not adequately designed to account for the rate and extent of permafrost degradation currently projected.
CAN/CSA-S502-14 Managing changing snow load risks for buildings in Canada's North is designed to inform communities about safe snow removal methods for rooftops of existing Northern buildings. The standard also aims to reduce the risk to building occupants, of increasing snow accumulations and weights. Arctic regions have seen an increase in snowfall and extreme snow events. Adding to this issue is the occurrence of rain after a snowfall, which turns to ice and increases the weight or load of snow on buildings and housing. This increased weight can lead to structural damage, such as a collapsed roof.
To download a copy of both NSC, please go to www.shop.csa.ca.
Quick facts
CSA Group, a leading standards development organization (SDO) accredited by SCC, was selected by SCC in November 2012 to develop the initial four of the NISI standards. 
The Moderating the Effects of Permafrost Degradation on Existing Foundations and the Managing Changing Snow Load Risks for Buildings in Canada's North standards are the second and third of the four standards.
The first of the standards, CAN/CSA-S500-14 – Thermosyphon Foundations for Buildings in Permafrost Regions, was published in August 2014.
A fourth standard – Community drainage system planning, design, and maintenance in northern communities – is expected to be published in late March 2015.
Proposals from SCC-accredited SDOs are currently being evaluated for the development of a fifth NISI standard, Geotechnical site investigation guidelines for building foundations in permafrost.
Aspects of these NSC will contribute to the adaptation of critical standards to address the effects of climate change on new, or existing infrastructure, as well as retrofits, operations and maintenance.
Quotes
"The Government of Canada is taking action on climate change to protect our environment and the health of Canadians, while keeping the Canadian economy strong. These new standards will ensure greater structural integrity for Northern buildings, making them safer and more stable for Northern residents."
- Honourable Leona Aglukkaq, Minister of the Environment, Minister of the Canadian Northern Economic Development Agency and Minister for the Arctic Council
"With support from Aboriginal Affairs and Northern Development Canada, and funding from the Government of Canada's Clean Air Agenda, SCC is pleased to support the government's commitment to the North. SCC is doing this by supporting the development of, and ensuring access to, these vitally important standards for that region."
- John Walter, CEO, Standards Council of Canada
"CSA Group is committed to contributing to a more sustainable world. Helping to address the effects of climate change is particularly important in the North, where it can have such a devastating impact. These standards offer best practices to help manage and mitigate the risks associated with climate change, and will contribute to building a solid future for communities in the Far North.
- Gianluca Arcari, Executive Director, Standards and Vice President, CSA Group
About CSA Group
CSA Group is an independent, not-for-profit membership association dedicated to safety, social good and sustainability. Its knowledge and expertise encompass standards development; training and advisory solutions; global testing and certification services across key business areas, including hazardous location and industrial, plumbing and construction, medical, safety and technology, appliances and gas, alternative energy, lighting and sustainability; as well as consumer product evaluation services. The CSA certification mark appears on billions of products worldwide. For more information about CSA Group, visit www.csagroup.org.
About SCC
SCC is a Crown corporation and part of the Industry Canada portfolio. With the goal of enhancing Canada's economic competitiveness and social well-being, SCC leads and facilitates the development and use of national and international standards. SCC also coordinates Canadian participation in standards development, and identifies strategies to advance Canadian standardization efforts. Accreditation services are provided by SCC to various customers, including product certifiers and testing laboratories. SCC represents Canada at the International Organization for Standardization (ISO) and oversees CANC/IEC. For additional information on SCC, visit www.scc.ca, or send inquiries to info@scc.ca.
Media contacts
Sandra Watson
Vice-President, Communications & Corporate Planning & Corporate Secretary
Standards Council of Canada
+1 613 238 3222 ext. 403
swatson@scc.ca

Allison Hawkins
Manager, Corporate Affairs
CSA Group
+1 416 747 2615
allison.hawkins@csagroup.org