John Walter, SCC's Chief Executive Officer is pleased to appoint Mr. Jacques Régis as President of Canada's national committee to IEC (CANC/IEC) for a two-year term of office starting March 14, 2014.
As the President of Canada's national committee, Mr. Régis will play a key role in overseeing the overall governance and guidance of the CANC/IEC. "Canada has an excellent reputation within international standardization spheres, and Mr. Régis's recent appointment will continue to advance this country's global leadership role in standardization," commented Mr. Walter. Mr. Régis will work closely with Sylvie Lafontaine, Vice-President of SCC's Standards and International Relations Branch, who oversees Canada's participation in the standardization activities of the IEC, including its national committee.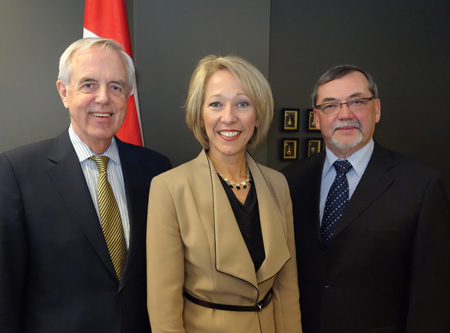 ​
From left to right: John Walter, SCC CEO; Sylvie Lafontaine, VP Standards and International Relations, SCC; and Jacques Régis, President of Canada's national committee to IEC (CANC/IEC) 
The electrotechnical industry impacts nearly all aspects of our modern life. From telecommunications, multimedia, medical equipment, and energy production and distribution, to e-mobility, fiber optics, nanotechnology, and consumer appliances, all of these interconnected electrotechnologies evolving at a more than ever rapid pace. International standardization provides the critical frameworks that enable their interoperability, efficacy, quality, and safety around the world.
Mr. Régis is no stranger to the electrotechnical sector, standardization and the IEC community. Mr. Régis brings his extensive experience having worked at Hydro-Québec beginning in 1968 where he held various technical and management positions. In 1991, he was promoted to Executive Vice President – Generation, Transmission and Telecommunications.
In 2003, Mr. Régis was named President and Chief Operating Officer of Hydro-Québec TransÉnergie, Hydro-Québec's transmission division created in 1997 as part of the restructuring of North American wholesale electricity markets. He is now retired from Hydro-Québec, following an illustrious 35-year career in the industry.
Mr. Régis chaired the Transmission Council of the Canadian Electricity Association (CEA), and was a member of the CEA's Board of Directors for 12 years. He was also Vice President of the Executive Committee of the Northeast Power Coordinating Council (NPCC), and represented Canada on the Management Committee of the North American Electric Reliability Council (NERC). Jacques was also Vice-Chairman of the board of Transelec S.A. (Chile) and a board member of Consorcio Transmantaro S.A. (Peru).
Mr. Régis has also been throughout his career very active within the international standard development spheres.  Jacques represented Canada at the IEC Council Board in 2005, and was then elected to the prestigious role of IEC President from 2008 to 2010. 
Mr. Régis expertise and commitment to standardization will be of significant benefit to Canada and to the global community. International standardization is an essential component for open markets and free trade on a global scale. Canadian industry can now be further assured of a strong Canadian voice.
As President of CANC/IEC, Mr. Régis will assume the leadership to:
Identify and report on Canada's existing and emerging standardization priorities in the electrotechnical industry;  
Bring forward the interests and issues of a varied group of constituencies as they relate to standardization;
Assist in identifying and recruiting key stakeholders to ensure active participation in Canada's international and regional management and technical committees; and
Collaborate with Canadians officials participating at IEC Management Committees to bring forward Canada's electrotechnical standardization priorities.
Mr. Régis will also be the official representative for Canada at the International Electrotechnical Commission, and serves as the Head of Delegation at the IEC General meeting. 
SCC is a Crown corporation and a portfolio of Industry Canada. With the goal of enhancing Canada's economic competitiveness and social well-being, SCC leads and facilitates the development and use of national and international standards. SCC also coordinates Canadian participation in standards development, and identifies strategies to advance Canadian standardization efforts. Accreditation services are provided by SCC to customers including various product certifiers and testing laboratories.
SCC represents Canada at the International Organization for Standardization (ISO) and oversees the Canadian National Committee to the International Electrotechnical Commission (IEC).