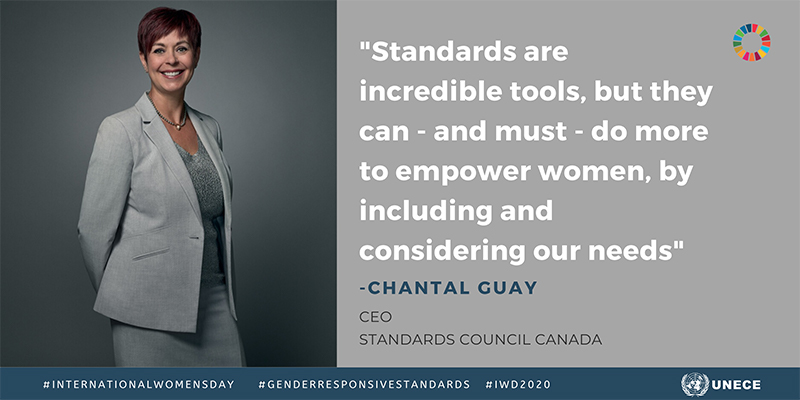 In the spirit of celebrating women and girls, the United Nations' theme for this year's International Women's Day is "I am Generation Equality: Realizing Women's Rights." It's a call for everyone to act to advance gender equality. SCC is committed to answering that call and providing leadership, at home and internationally.  
Both ISO and SCC launched their gender strategies in 2019. The ISO Gender Action Plan outlines five priority areas that focus on collecting data, creating a network to share best practice, and raising awareness of standards in support of gender equality and women's empowerment.
With a focus on improving the representation of women in standardization, as well as ensuring our programs and policies support the development of gender responsive standards, the SCC Gender and Standardization Strategy takes a three-pronged approach: 
Improving gender representation in standards development
Building gender expertise into the standardization system, and
Contributing sound research
Society has come a long way since International Women's Day was first celebrated more than a hundred years ago. But significant barriers remain. Applying a gender lens to standardization work is necessary to ensure that the standards for products, processes and services that we rely on daily are equally effective for men and women.  Ultimately, a gender responsive standardization system will lead to transformative change and a more equal world overall. 
For more updates on ISO gender initiatives throughout the year, be sure to follow SCC and ISO on Twitter (SCC, ISO) and LinkedIn (SCC, ISO) and use the hashtags #genderresponsivestandards and #ISOGenderAction.
"We, at ISO, recognize that International Standards are essential tools toward reducing inequalities, creating greater sustainability and encouraging inclusive economic growth, all of which largely contribute to the United Nations Sustainable Development Goals, including SDG 5 (Gender Equality)."

-- ISO Secretary-General Sergio Mujica

 SCC Advancing Gender Equality at the WTO
Two members of the SCC team will be heading to the World Trade Organization in Geneva in May to help advance the discussion on gender and the role it plays in the development of standards and technical regulations. Gabrielle White and Michelle Parkouda will take part in a workshop ahead of a meeting of the Committee on Technical Barriers to Trade. The session will advance the discussion around gender and standards, which has been a subject of increasing focus, particularly in the wake of the Buenos Aires Joint Declaration on Trade and Women's Economic Empowerment. The goal of the session will be to share knowledge about the impact of standards on gender equality, in keeping with Canada's commitment to advance a comprehensive Feminist Foreign Policy. The policy aims to support women and girls as equal decision-makers, and to promote and protect their rights.