Thursday, August 22, 2019
MESSAGE FROM THE CEO AND CHAIR
Great things can happen when we put our expertise and know-how as facilitators and consensus-builders at the service of our partners and stakeholders.
Our accomplishments were made possible through collaboration, by building strong relationships, and bringing together diverse groups and perspectives to develop strategies that are inclusive. We realized our goals with strong support from Innovation, Science and Economic Development Canada, our Council and the dedication of our staff and our partners in Canada's standardization network.
Read the full message or download the annual report.
HIGHLIGHTS
---
Innovation
Helping Canadian Innovators Thrive at Home and on the World Stage
---
Innovation drives economies, and in today's global marketplace, it is a significant path to a country's economic growth and prosperity. Canada must be first out of the gate in producing and commercializing new products, services and business models to advance its position in the global innovation race. The forces that drive these innovations are increasingly fueled by standardization. That is why SCC works diligently to build standardization into the development of new ideas, breakthroughs and technologies.

Teaming up with Canadian Innovators
Through strong relationships with the private sector, governments, research institutions and industries, SCC is developing initiatives that will help propel Canadian innovators to the global stage. SCC continues to build on its successes as it grows the number of Canadian innovators it assists by providing custom standardization strategies that help them thrive in the global marketplace.
Innovator Profiles
Standardization strategies for Canada's superclusters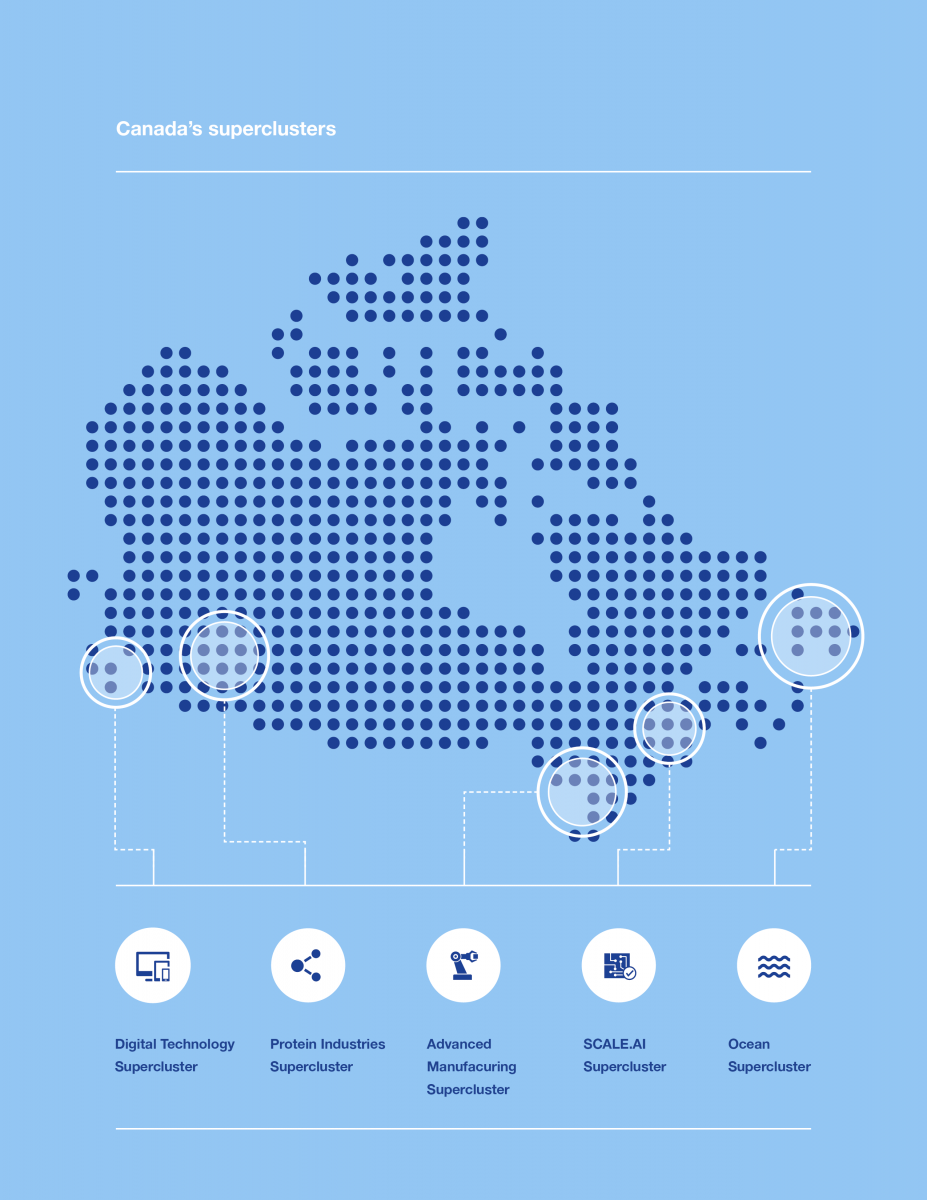 Building on the engagement strategy SCC developed last year, we continue to support Canada's Innovation Superclusters Initiative . A first of their kind in Canada, the superclusters are designed to support business-led innovation in key sectors that have the greatest potential to spur economic growth.
International research continues to show links between standardization, labour productivity and economic growth, and guided by this evidence, we are working to ensure companies in the superclusters know at the onset what standardization can offer to accelerate the commercialization of their breakthroughs and about the support SCC can provide to help them shape marketplace rules to their advantage.
---
Canadian Leadership
Harnessing standardization for trade growth within Canada
---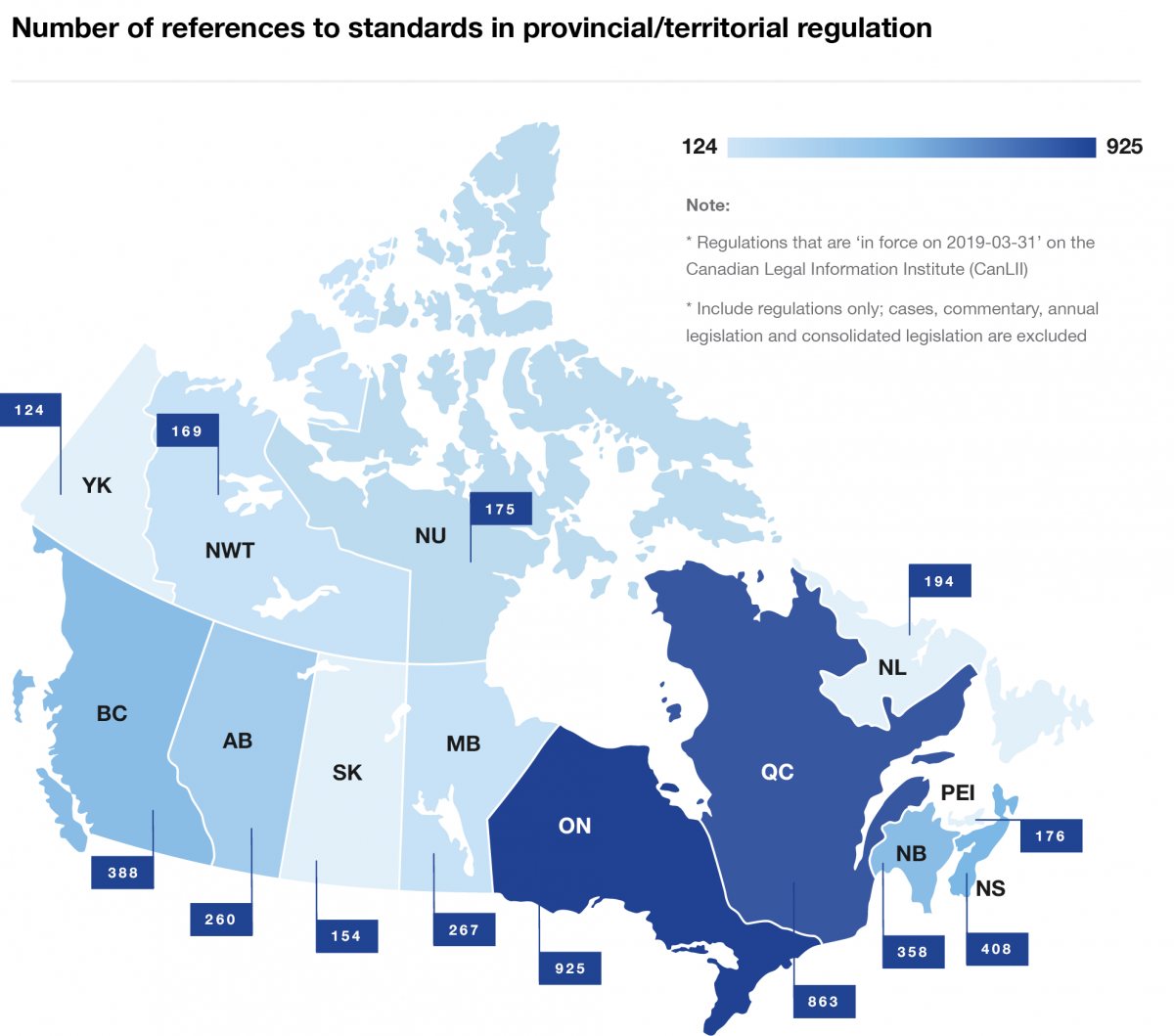 Although it may be easy for most Canadians to travel across provincial and territorial borders, that's not the case with many goods and workers. Differences in certification and testing requirements between Canadian jurisdictions have prevented products, tradespeople and professionals from moving freely between Canadian provinces and territories. Sometimes, different requirements and regulations are needed, but they can cause technical barriers to trade, creating unnecessary red tape for businesses.
By working to align standards and regulatory requirements, SCC is supporting regulatory reconciliation —the process of aligning existing regulations across the country. Helping to achieve the goal of having one standard and one test across Canada will move us toward freer trade in Canada. It will also result in a healthier, sustainable, and more competitive nation in the years to come.
Enhanced relationships with Regulatory Authority Advisory Bodies
As the leader of Canada's standardization network, SCC continues to innovate and improve its processes to provide value to Canada. That is why SCC is forging stronger relationships with Regulatory Authority Advisory Bodies to ensure that standards, conformity assessment procedures and other regulatory tools are up-to-date and aligned across the country. These bodies are technical advisory committees consisting of regulators from various provincial and territorial governmental organizations. They work to ensure consistency among jurisdictions regarding regulations, standards, Other Recognized Documents (ORDs), and conformity assessment procedures for the sale, purchase, safety, performance, use or application of consumer or industrial products.
Agile and responsive to changing landscapes in regulated sectors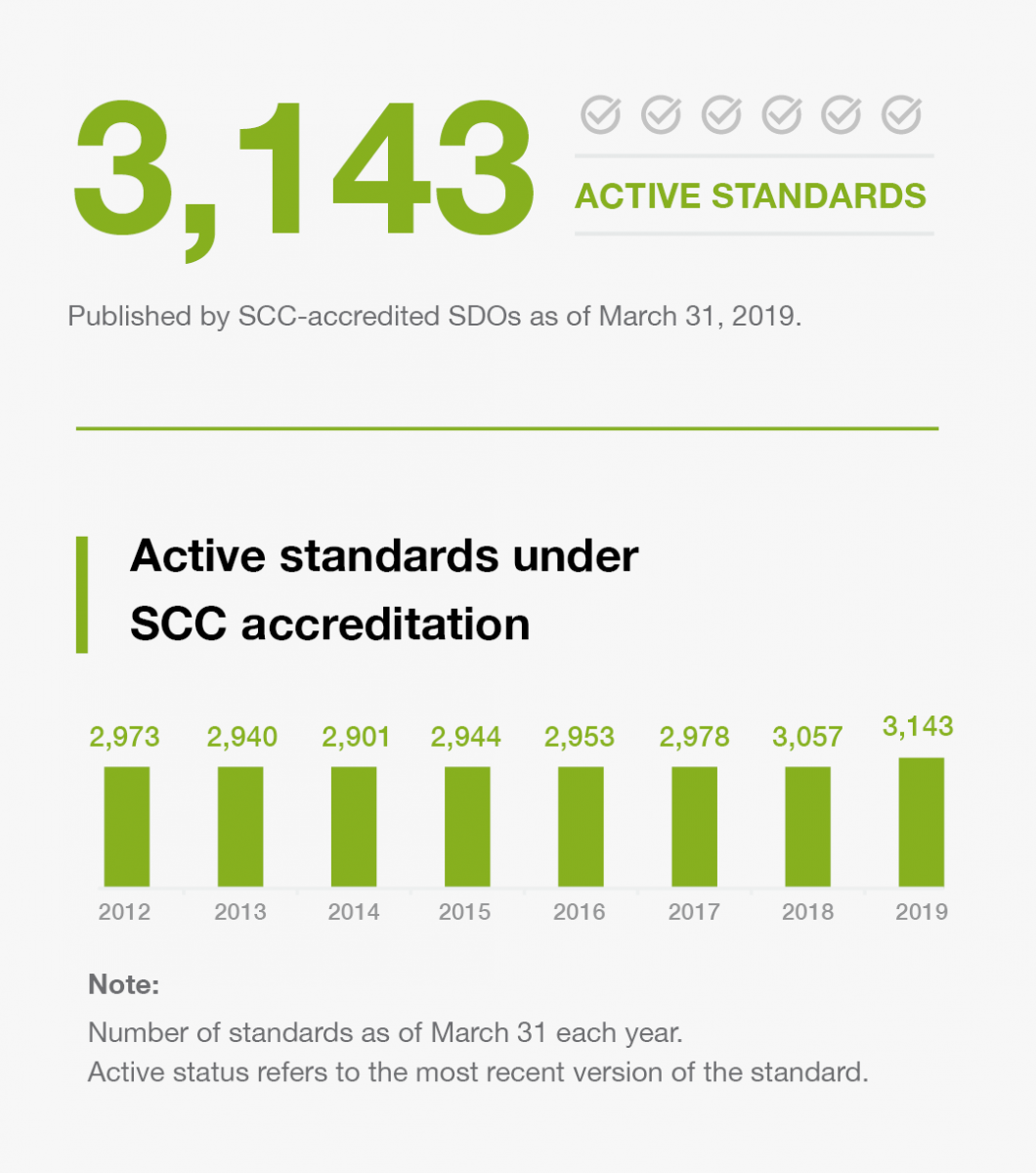 In Canada's national standardization network, a National Standard of Canada is a voluntary consensus-based standard published by an SCC-accredited standards development organization and approved by SCC. All National Standards of Canada (NSCs) provide assurance to network users that they have been developed following the SCC prescribed process which ensures inclusion of a balanced committee of stakeholders, follows international best practices, promotes international harmonization, and meets Canada's needs. 
In 2018-19, SCC accredited the International Association of Plumbing and Mechanical Officials and the CIO Strategy Council, bringing to 11 the total number of SDOs that can develop, publish and maintain NSCs. By increasing the number of SCC-accredited SDOs in Canada, we are better able to offer more standardization options to help increase trade, reduce barriers for business and support economic growth.
New and expanded accreditation programs

SCC is Canada's national accreditation body, which means it accredits testing laboratories, product certification bodies and other conformity assessment bodies to internationally recognized standards to strengthen the safety, reliability and quality of products and services for Canadians. In 2018-19, accreditation programs were provided or expanded related to energy management systems (ISO 50001), occupational health and safety management systems (ISO 45001), and cannabis testing under ISO/IEC 17025 for testing and calibration laboratories.
The accreditation provided by SCC helps demonstrate an organization's competence to manage and perform conformity assessment activities as defined by its specific program scope of accreditation. Through SCC accreditation, bodies such as testing laboratories, certification, validation and inspection can obtain independent third-party validation for themselves and for their customers. 
Resilient infrastructure in a changing climate
Extreme weather events like droughts, wildfires, floods and windstorms are happening more frequently throughout Canada, and such impacts resulting from a changing climate are increasingly challenging for communities. Every year, flooding alone causes millions of dollars in property damage. And as our climate continues to change, the risks and the costs associated with it are only expected to rise. Finding innovative ways to adapt is crucial, especially if we are to reduce the effects of climate change on our aging infrastructure.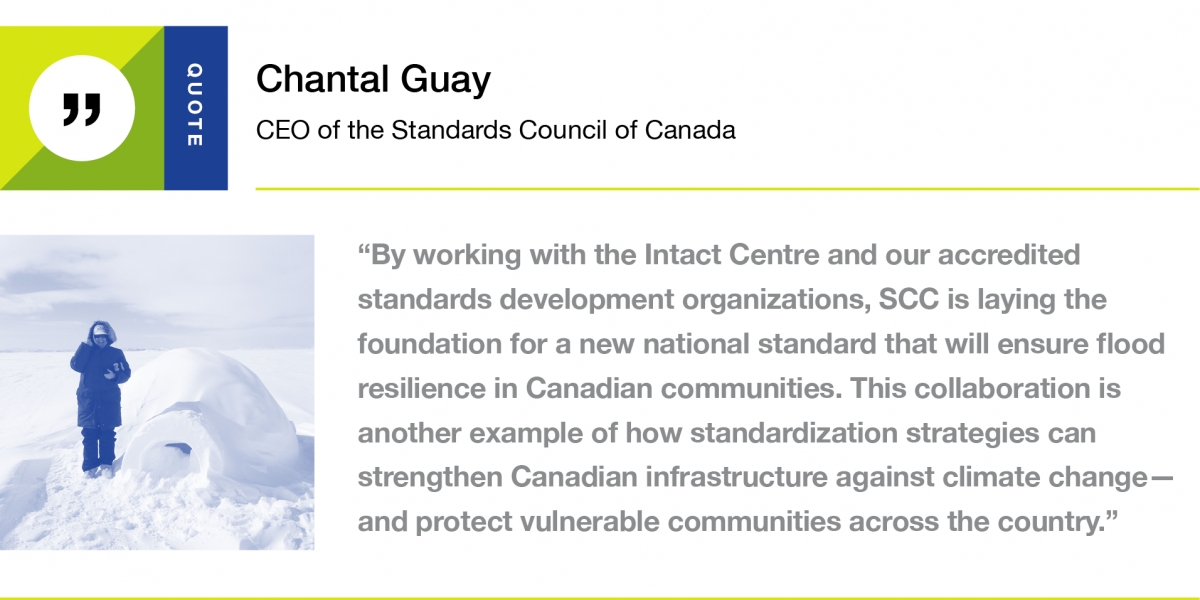 In 2018-19, we continued to spearhead climate resilience initiatives through our Standards to Support Resilience in Infrastructure Program under Canada's Adapting to Climate Change objective in support of the Pan Canadian Framework on Clean Growth and Climate Change. As part of this program, SCC is providing a solid foundation for climate adaptation with the creation of standardization strategies that help ensure building codes, guidelines and standards are updated to protect infrastructure. By doing so, we are helping protect Canadians and giving them peace of mind that their homes and communities will be safe and resilient in the years ahead. 
Engaging and supporting members

Maintaining and fostering an energized standardization network rests in large part on supporting and attracting the best and brightest experts to participate in standardization development.
Engaging and empowering new and long-time members continued to be a key priority for SCC in 2018-19. As such, it invested in resources, programs and initiatives to recruit new members and ensure all participants in standards setting activities are well-equipped with the support and training they need to contribute fully and effectively, and deliver maximum value for Canada.
Ensuring the sustainability of Canada's standardization network is also dependant on engaging and retaining the next generation of members. As part of standardization succession planning activities, SCC developed a young professionals framework and implementation plan for a national program to increase this group's participation in standardization.
Canadian Participation in International Standardization
Bringing Canada to the international standards stage  
As governments around the world look to standards and accreditation as a way to improve their competitiveness, SCC's international activities remain critical to ensure that standardization continues to fuel Canada's economy. By collaborating with and taking on leadership roles in national, regional and international standardization bodies from around the world, SCC helps to facilitate the trade of Canadian goods and services with these countries.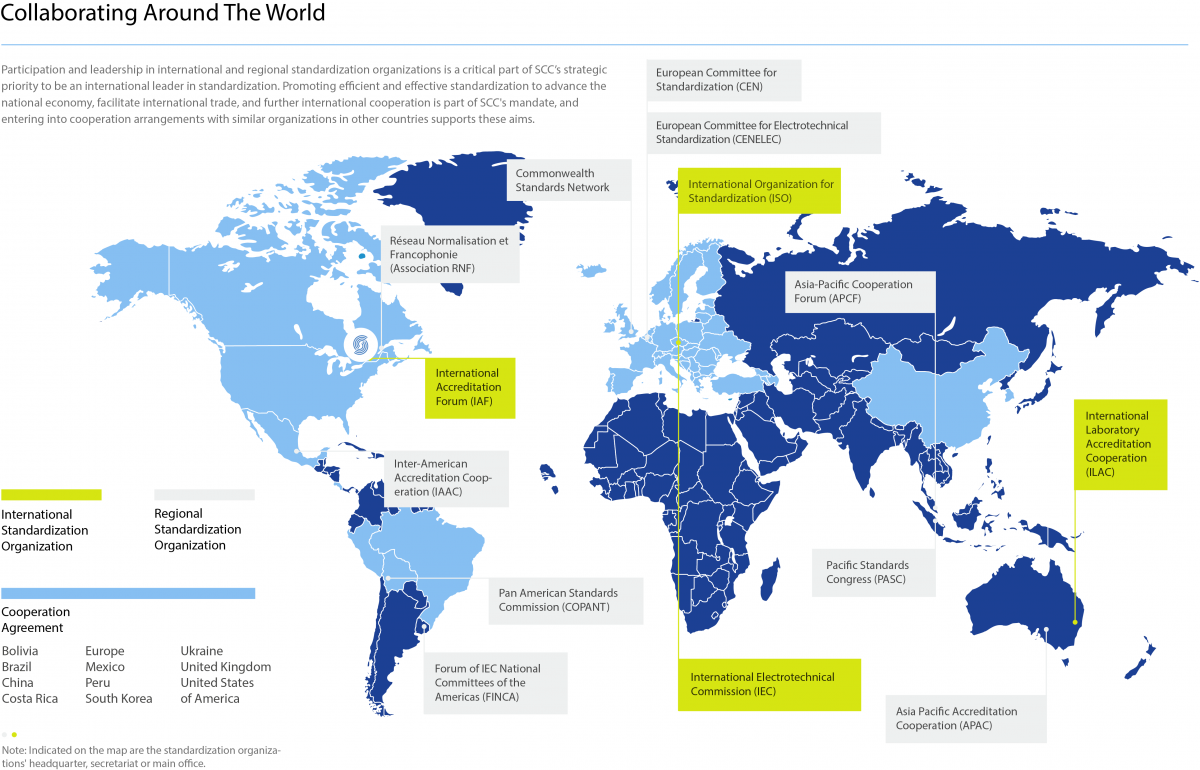 At the technical committee table

Developing standards relies heavily on the hard work of expert volunteers from around the world, and Canada's experts are being heard. 
This year, Canada had participating status on 415 international technical committees and observing status on another 50. Those participants are also leaders. At the end of fiscal 2018-19, Canadians held 193 leadership positions within international technical committees. These included 24 chair positions and 152 conveners. Additionally, in 2018-19, Canada held the secretariat for 17 international technical committees including ISO/TC 176 which is responsible for quality management systems and ISO/TC 207 responsible for environmental management systems. International leadership is a key strategic objective of SCC, and working within international standards bodies ensures Canada's voice is heard. 
Supporting gender equality in standardization

Greater inclusion of women in standards and standards development is an important priority for SCC, one with ties to the UN's Sustainable Development Goals as well as the Canadian government's commitment to gender equality.
In November, SCC attended the United Nations Economic Commission for Europe Working Party 6 on the gender responsive standards initiative. SCC supported the Permanent Mission of Canada in Geneva by addressing the Working Party, and outlined our commitment to developing a strategy to improve gender balance and gender expertise in Canada's standardization network. Since then, SCC has created an internal Gender and Standards Working Group to ensure gender is a consideration in SCC's standardization policies and to increase awareness in the workplace. 

Canada is among one of the first countries to quantify the participation of women on SCC's ISO/IEC mirror committees. Currently, women account for approximately 25 per cent of ISO mirror committee participants, and 9 per cent for IEC, even though they account for 47 per cent of Canada's working population. Learning the numbers is a key first step to developing plans to better include women in standards development.
---
Culture of Excellence
A high-performing and knowledge-based workforce
---
SCC's ability to deliver value to Canada depends on attracting and retaining the best and the brightest. Staff must have the tools, knowledge and expertise to seize opportunities and develop standardization strategies that not only support innovation, but also protect Canadian consumers, promote trade, support sustainable development and fuel our economy.
Investing in staff at all levels of the organization ensures everyone has the skills they need to help us deliver on our ambitious goals. Through its investment in employee engagement and professional development, SCC is well positioned to retain the expert staff needed to follow through on our plan to build an even stronger standardization network. Our talent management strategy also includes succession planning to identify and develop the next generation of leaders so we continue to have a team of the best people going forward.
At SCC, where over 50 per cent of all employees are women, we take pride in empowering women to seize opportunities to participate and lead in standardization, including through international standards development. As well, SCC delivered on its commitment to ensure all employees are treated fairly within our organization and moved to implement an employment equity program. This program ensures that women, Indigenous peoples, persons with disabilities and visible minorities are equitably represented at all levels within our workforce. 
---
FINANCIAL PERFORMANCE
---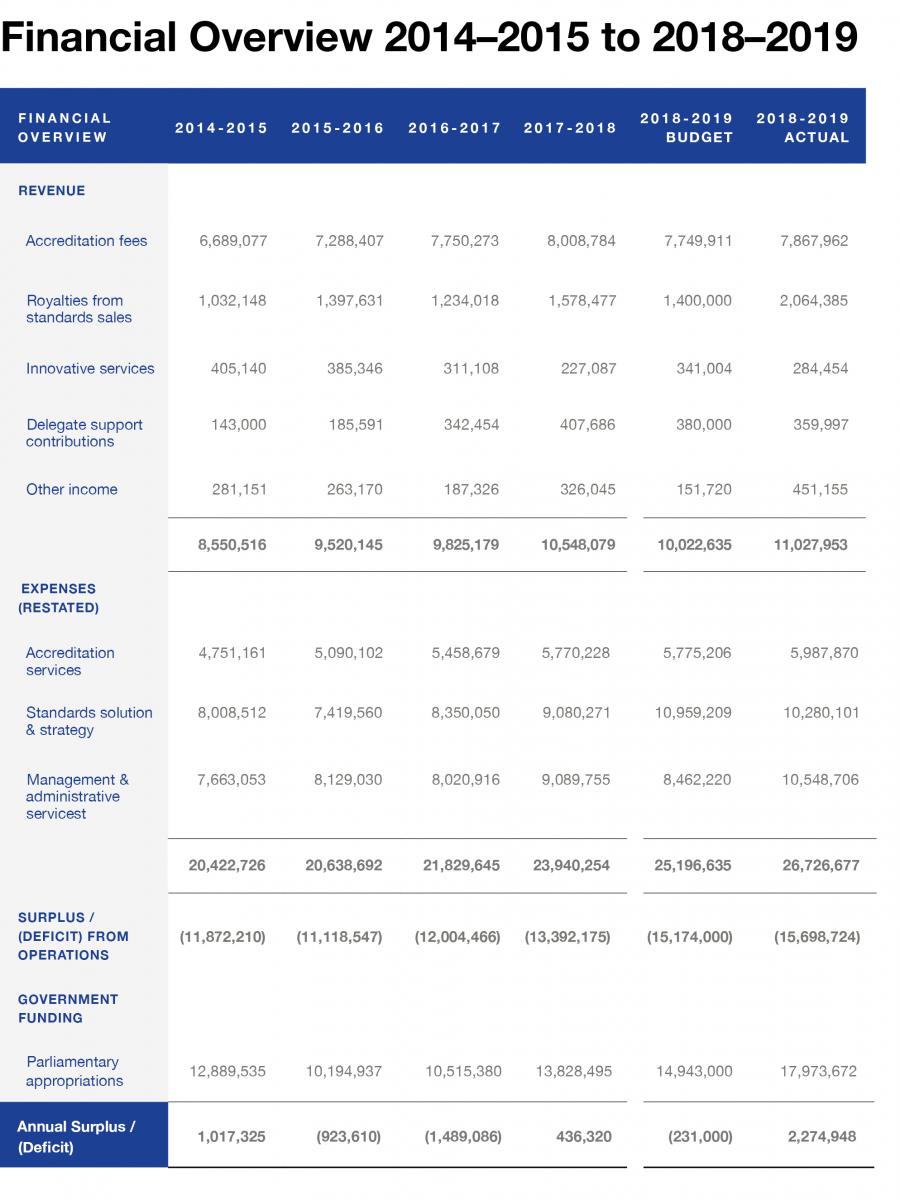 In 2018–2019, SCC's total revenue (excluding federal government funding) was $11.0 million, which was 5 per cent higher than the $10.5 million recorded during 2017–2018. The increase from last year was primarily due to an increase of $0.5 million in royalty revenues from the sale of standards and an increase of $0.1 million in Other Income.