VP Education/Government Solutions & High Performance Green Buildings, Schneider Electric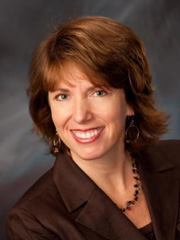 Melissa O'Mara has 26 years of professional experience at Schneider Electric, IBM and  Andersen Consulting. Her experience spans information systems consulting, project management, change management, consultative solution sales, solutions sales management, professional coaching, and leadership development.
She is responsible for driving Schneider Electric capabilities in global targeted markets to deliver intelligent, sustainable, and profitable Green Building Solutions. In the corporate world, her core mission is to maximise institutional and cultural response to environmental and economic challenges through smarter, innovative solutions, cross-enterprise collaboration, and effective leadership. In 2009, while at IBM, Ms. O'Mara launched the Green Sigma™ Coalition — a network of nine leading energy and sustainability solution providers (including IBM and Schneider Electric) committed to accelerate the progress of global enterprise sustainability.
She has a B.S. in Industrial Distribution from Clarkson University. She is a certified professional co-active coach (CPCC) through the Coaches Training Institute, and a Bigger Game coach and facilitator.  She loves working with smart people on big challenges.