Deputy Minister, Industry Canada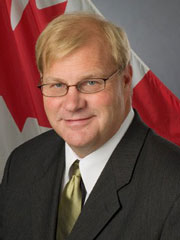 John Knubley was appointed Deputy Minister of Industry Canada on September 17, 2012. Previously, he served as Deputy Minister at Agriculture and and Agri-Food Canada, since 2009. There, he supported the development and implementation of Bill C-18, the Marketing Freedom for Grain Farmers Act, which eliminated the monopoly of the Canadian Wheat Board-as well as the completion of negotiations with provinces of a new five-year suite of agricultural programs oriented to innovation and market development.
In 2008, John served as Deputy Minister of Intergovernmental Affairs at the Privy Council Office, leading the organization and management of the First Ministers' Meeting that year on the Economic Action Plan. Prior to this, he was Associate Deputy Minister atTransport, Infrastructure and Communities, as well as Associate Deputy Minister at Natural Resources Canada.
Other highlights of his career include his involvement with the Meech Lake negotiations and various federal and provincial aspects of the Canada-U.S. Free Trade Agreement.
John has a BA from Yale University and a Master of Philosophy, Politics and Economics from the University of Oxford. He also obtained a post-graduate diploma from the Institut Européen des Hautes Études Internationales in Nice, France, as well as a Master's degree in Public Administration from Harvard University's Kennedy School of Government.