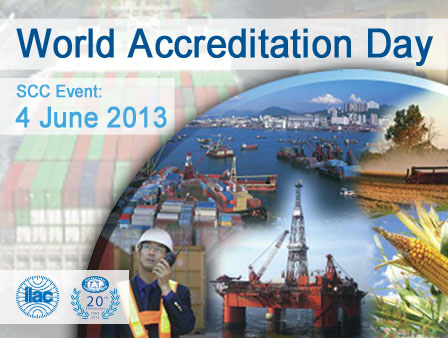 The Standards Council of Canada (SCC) celebrated World Accreditation Day 2013 on Tuesday, June 4, 2013 (held internationally on June 9). Every year, World Accreditation Day raises awareness around the globe of the importance of accreditation-related activities.
Stakeholders from Canadian industry, government and consumer groups with an interest in trade issues were encouraged to attend.
Video
Video of the event is available below.
Theme
The theme of this year's networking breakfast event was Accreditation: Facilitating World Trade. The theme served to highlight the importance of accreditation and certification procedures, standards, regulations and testing, in ensuring the safety of products and services, regardless of their country of origin.
Though accreditation success stories may not make headline news every day, the value of accreditation is present in our daily lives. Products and services must cross borders to meet global demand without causing undue risk to the health and security of individuals or the environment as well as being financially and technically feasible. Accreditation and certification can ensure consumers and businesses have confidence in products and services.
By attending the event, participants could:
learn about the impact of accreditation on global trade and international relations;
discover the difference between accreditation and certification;
share success stories and lessons learned;
celebrate the achievements of accreditation and certification;
learn more about SCC and its role; and
network with peers from like-minded organizations.
Agenda
8 a.m. to 8:30 a.m.
Breakfast and registration
8:30 a.m. to 8:40 a.m.
Opening remarks
John Walter, Chief Executive Officer, SCC
8:40 a.m. to 8:55 a.m.
Overview of SCC's Accreditation Services
Chantal Guay, Vice-President, Accreditation Services, SCC
8:55 a.m. to 9:25 a.m.
Speaker
Stuart Beck, Director of Certification, Nemko Canada Inc.
9:25 a.m. to 9:55 a.m.
Moderated Discussion
Fred Leber, Owner and CEO, LRI (LEBER/RUBES INC.)
Doug Thorn, Senior Marketing Support Specialist, Honeywell