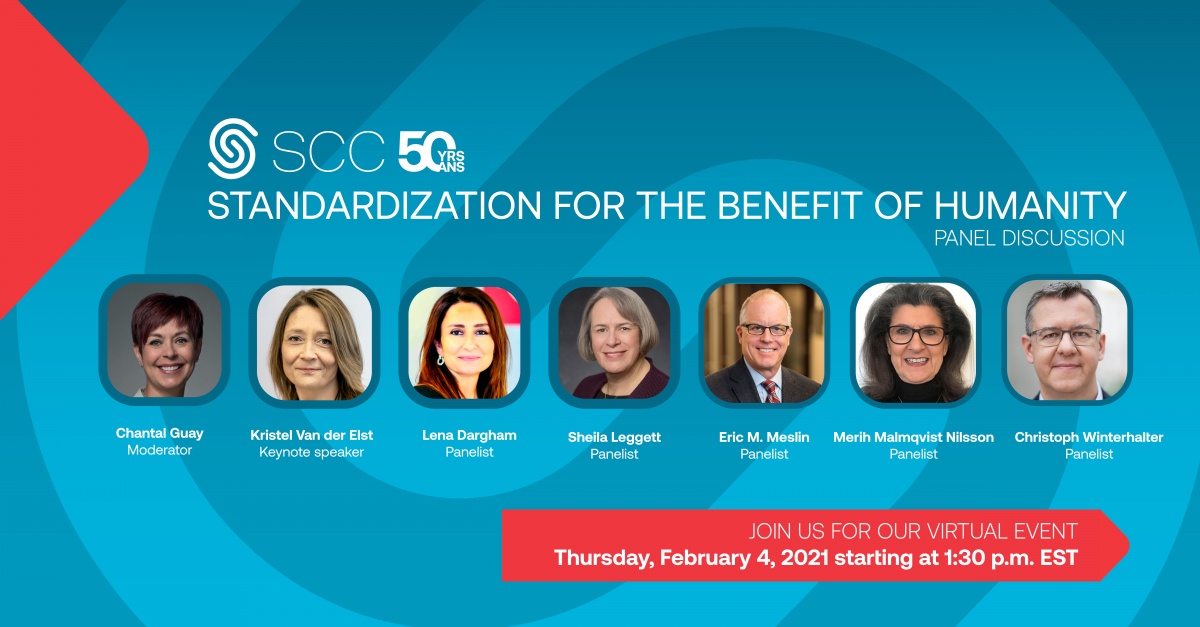 To mark our 50th anniversary, SCC is delighted to host a virtual event on Thursday, February 4 , featuring a keynote from Policy Horizons Canada on global trends to set the stage, followed by a panel discussion on standardization for the benefits of humanity. We will also recognize our 2020 Award winners and conduct our annual public meeting.  
Event Details
When: Thursday, February 4, 2021
Time:  1:30 to 3:30 PM 
Where: Zoom webinar; upon registration a link will be emailed to all registrants* 
Agenda
Welcome, Chantal Guay, SCC, CEO
Keynote: Kristel Van der Elst, Director General, Policy Horizons Canada
Panel Discussion: Standardization for the Benefit of Humanity 
Annual Public Meeting: Address from Acting Chair, Colin Clark on how SCC is achieving reach and impact   
SCC Awards presentation
Closing remarks, Chantal Guay, SCC, CEO
---
Panel Discussion: Standardization for the Benefit of Humanity 
What is the role that standardization can play in the next 50 years in the advancement of humankind? Standards and conformity assessment are addressing some of the world's biggest environmental, societal, governance and economic challenges. 
To mark our 50th anniversary, we are looking ahead and bringing together a group of industry influencers for a lively panel discussion on how standardization is shaping our society and helping build a better world. The panel discussion will be moderated by SCC's CEO Chantal Guay and will bring international influencers together to discuss the future of standardization and how it can help humanity. 
Moderator
Chantal Guay, ing. P.Eng. FCAE
SCC CEO

Keynote speaker
Kristel Van der Elst
Director General, Policy Horizons Canada
Panelists
Lena Dargham
Director General of the Lebanese Standards Institution
(LIBNOR), Lebanese Standards Institution 
Sheila Leggett ICD.D
Chair of the International Standards Organization (ISO) Technical Committee
Eric Meslin, PhD FRSC FCAHS
President and CEO, Council of Canadian Academies
Merih Malmqvist Nilsson
International consultant: Quality infrastructure, TBT, accreditation, standards
Christoph Winterhalter
Chairman of the DIN Executive Board,DIN 
The German Institute for Standardization
---
Colin Clark, SCC's Acting Council Chair, will provide an update and review of the year and address questions on SCC's operations and priorities received prior to the meeting. Registrants may also ask questions during this segment of the event in the chat feature in Zoom. Please submit your questions prior to the event or post event to info@scc.ca.  
Learn how SCC has achieved reach and impact in our 2019-2020 annual report.
---
Every two years, SCC presents Canada's national awards in standardization. These awards recognize the commitment of individuals, organizations and committees who dedicate their time and expertise in support of Canada's national standardization network. We will be announcing our 2020 winners! 
---
Register now 
*Please note that the event will be broadcasted in English and French, using simultaneous translation