The Standards Council of Canada (SCC) celebrated World Standards Day (WSD) 2018 during and event on October 4, 2018, in Ottawa. In conjunction with the event, SCC held its Annual Public Meeting and presented Canada's national awards in standardization—the SCC Awards.
Video Presentations from SCC World Standards Day 2018 Event
Opening remarks by Chantal Guay, Chief Executive Officer, SCC
Annual Public Meeting presentation by Kathy Milsom Chair, SCC Governing Council
2018 SCC Awards
Keynote presentation by The Honourable Sergio Marchi, President and CEO, Canadian Electricity Association
Keynote presentation by Leah Lawrence, President and CEO, Sustainable Technology Development Canada
Panel discussion on innovation and standardization featuring: Blair Feltmate of the University of Waterloo's Intact Centre on Climate Adaptation; Andrew Massé, General Manager and Designer, WindTrans Systems Ltd.; Audrey Mascarenhas, President and CEO, Questor Technology Inc. and;Peter Tsantrizos, President and CEO, Terragon Environmental Technologies Inc.
---
SCC Awards 2018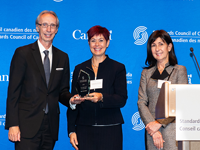 Hugh Krentz Award
Recognizing exceptional leadership and contributions of an individual in Canada's standardization network​.
Don Newsham, Chair of MC/ISO/TC 215 – Health Informatics
Young Leader Award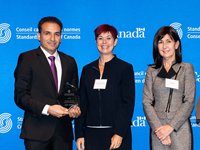 Recognizing a leader of tomorrow by honouring an engaged and active participant of the standardization network who is under the age of 40​.
Amin Yazdani, Professor and Program Coordinator for Occupational Health, Safety and Wellness at the Conestoga College Institute of Technology and Advanced Learning's School of Business.
Corporate Commitment Award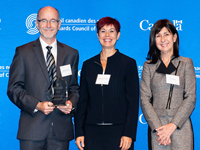 Recognizing the contributions and commitment made by a group or organization in support of standardization activities nationally and internationally.
National Research Council
On behalf of the National Research Council, the Corporate Commitment Award award is being accepted by Michel Dumoulin, the Vice-President Engineering, NRC.
Committee Achievement Award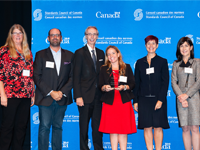 Recognizing the contributions made by a committee or group in support of Canada's national standardization network.
MC/ISO/TC 215 – Health Informatics
The Committee Achievement Award is being accepted by Don Newsham and Elizabeth Keller, on behalf of MC/ISO/TC 215 – Health Informatics.
McMahon Dedicated Service Award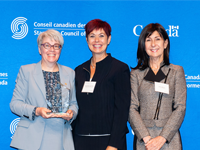 Recognizing notable contributions to standardization made by SCC personnel​.