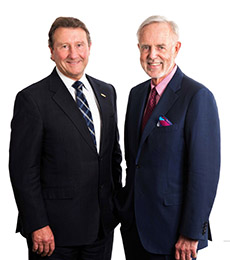 Message from the chair and the CEO
Standards are critical to almost every product and service we use. They are part of a network of guidelines, rules and requirements designed to ensure things work as they should. They protect our health and safety, and our environment—and now, more than ever before, they are critical to our nation's economy and our future.
As the leader of Canada's standardization network, the Standards Council of Canada (SCC) delivers relevant standardization solutions that protect Canadians, drive innovation, promote domestic and international trade, support sustainable development and ultimately, fuel our economy.
At SCC, we recognize that the world around us is changing. SCC also needs to change so that we can continue to provide value to Canada. Over the past year, we have proven we are up to the challenge.
Driving forward in new and innovative ways
In today's world, technology influences and shapes almost every aspect of our lives. We can pay for a coffee with our smartphone, automatically park our car with the press of a button, and even have a prosthetic limb made by a 3-D printer. This technological revolution has also sparked a global innovation race. Countries around the world—including Canada—are competing to spearhead new technologies. If we want to stay ahead in this innovation race, we need to remain a global leader in standardization.
From nanotechnology to regenerative medicine to management systems and service industries, standards can help our country create the conditions for innovation to take root and grow. By supporting and leading the development of international standards, and by ensuring Canadians are in leadership positions on key committees, SCC is laying the foundation for a thriving culture of innovation in Canada in the years ahead.
This year, we engaged three Canadian innovators in areas of strategic importance and guided them successfully through the international standardization process. Enabling innovation through standardization will offer these businesses a competitive advantage and, ultimately, deliver economic benefit for Canada.
By partnering with Canadian businesses, research institutions, and key industries to identify the areas where our nation's innovators have unique expertise, we can help them develop standards that tap into that expertise—and they can deliver their innovative products and services to the world.
Giving Canada a competitive edge in the global arena
Technology is not the only change we are facing. With today's global economy, traditional borders are disappearing and we are seeing the ever-increasing integration of people, companies and governments.
This offers Canadian businesses the ability to reach customers around the world. But differing regulations and standards between countries—and even within our own borders—create market barriers, keeping businesses from reaching their full potential.
Having one standard and one test around the globe, and across our country, will help break down these barriers and open up new and exciting opportunities for Canadian businesses. To achieve our goal of having "one standard, one test…accepted everywhere," we continue to support the federal government as it works to eliminate trade barriers between Canada and key trading partners.
We are also working with Canadian and U.S. industry to develop joint Canada-U.S. standards in the sectors that will most benefit our economy and citizens. These joint standards will help eliminate duplicative requirements that act as barriers to trade and increase costs for Canadians. They will also help to enhance the competitiveness of Canadian businesses.
SCC is also helping to eliminate internal trade barriers that have been created over many years by varying provincial and territorial regulations and standards. Over the past year, SCC has continued to work with the federal government towards the implementation of the Canadian Free Trade Agreement to help eliminate these barriers and promote greater cooperation between provinces and territories. We are also working with regulatory advisory bodies across the country to encourage them to use the same standards, so we are all on the same page when it comes to removing internal trade barriers.
Supporting national priorities through standardization—at home and abroad
To help open doors for Canadian businesses, SCC is continuing to strengthen its relationships with key trading partners. This past year, we signed an agreement with the European co-operation for Accreditation to implement the Canada-European Union: Comprehensive Economic and Trade Agreement's (CETA's) Conformity Assessment Protocol. By addressing duplicative certification between Canada and the EU, this protocol will provide Canadian businesses with increased access to the European market, the world's largest single economy. We also boosted Canada's international profile by strengthening partnerships and working as a trusted advisor with national standards bodies in the United States, China, Korea, Mexico and Costa Rica.
To ensure Canada remains a standardization leader, we also focused on increasing the number of Canadian experts participating on international technical committees. Having Canadian experts on these committees ensures Canada has a strong voice in the decision-making process and will help ensure Canadian competitiveness in the years to come. But having more Canadians participating in international standards development isn't enough. We are also making sure we have the right experts sitting on the committees that are of the most strategic importance to Canada.
Over the past year, SCC has worked with government, industry, consumers and other stakeholders to create a standardization network that supports Canada's needs and drives long-term economic health. As we move forward, we are committed and determined to build an even stronger network—a network that continues to provide value to Canada by facilitating global market access for Canadian innovators and helping break down trade barriers, both within Canada and internationally.
Acting Chair,
Dr. W. A. Sam Shaw
Chief Executive Officer,
John Walter