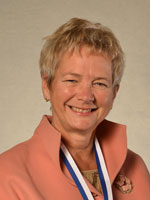 Jane Weitzel has been working in analytical chemistry for more than 35 years, in highly regulated, fast-paced companies, including for the last five years at the director/associate director level. She is currently a full-time consultant and assessor. Since 1990, Jane has been writing and revising guidelines for laboratory accreditation of the food, mining, microbiological and pharmaceutical industries and providing training on these requirements.
Jane has applied Quality Systems in a wide variety of technical and scientific businesses, including for the mining industry (20 years) and for the pharmaceutical manufacturing industry (14 years). As a member of the U.S. Pharmacopeial Convention (USP) Expert Committee on Reference Standards, Jane is very familiar with USP requirements and how to meet them.
Her experience with laboratory accreditation programs began in 1990, when she assisted in creating a guide of requirements for the Accreditation of Mineral Analysis Testing Laboratories. The Association of Analytical Committees (AOAC) has played an important part in Jane's career. She has been chair of the AOAC Mid-Canada section, chair of the Technical Division of Laboratory Management, and a member of the Analytical Laboratory Accreditation Criteria Committee of AOAC International, serving as committee chair for the past six years.
Jane has successfully completed the ISO 9000 lead auditor course, received a Certificate in Quality Assurance Management from the University of Manitoba and has obtained the American Society for Quality Training (ASQ) Certification for both Quality Engineer and Quality Manager. She has conducted audits internationally for pharmaceutical companies, including audits for cause, and has conducted third-party audits for accreditation to ISO 17025.