Canadians Prospering in a Changing Climate: The Role of Standards
The Standards Council of Canada (SCC) is making a difference by delivering standardization strategies to mitigate the impact we have on the environment and thrive in a changing climate. Download the infographic.
---
Helping Canadians Adapt to Climate Change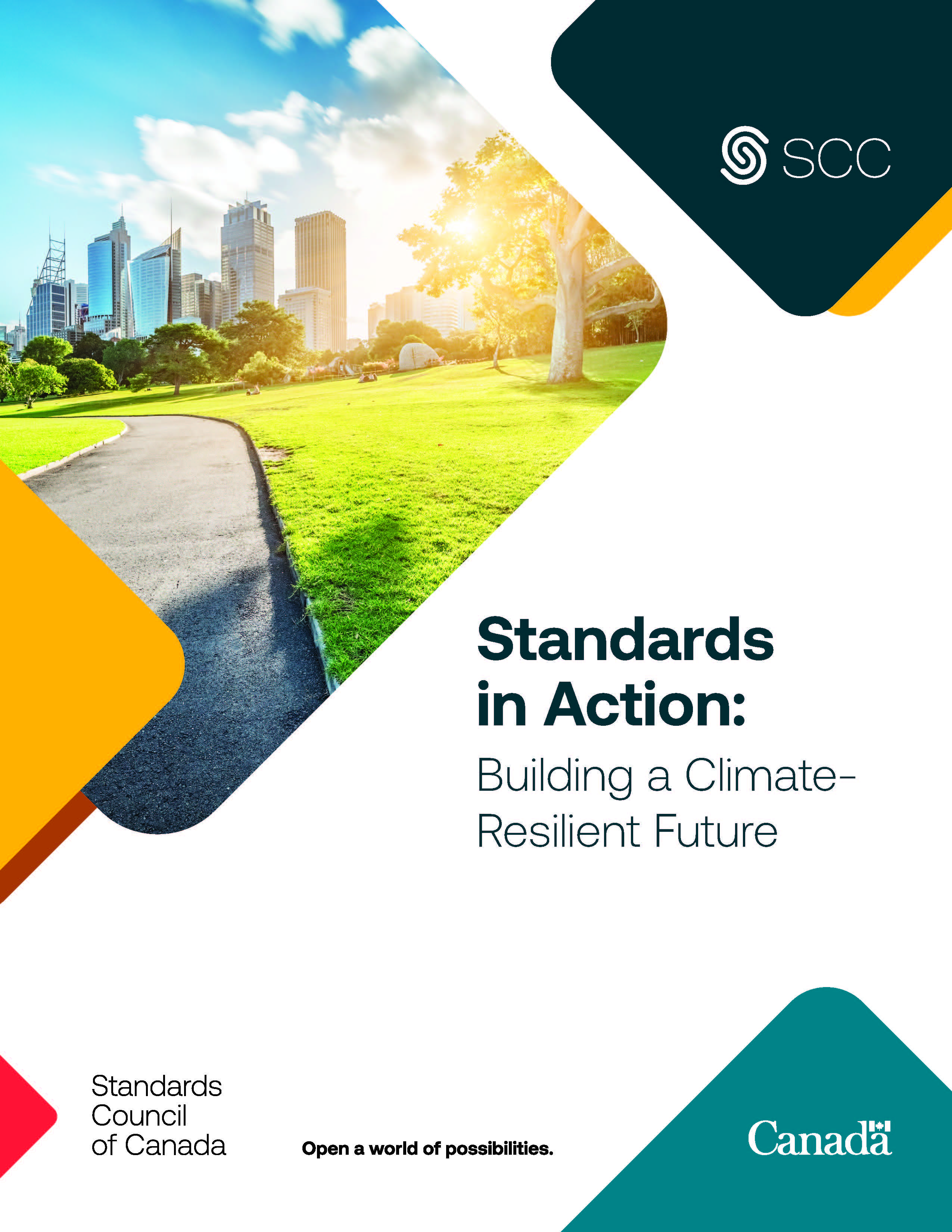 Our world's climate is changing dramatically, and Canada's climate is changing twice as fast than the global average. To ensure that our buildings and communities can withstand these changes, we need infrastructure standards that reflect the future climate, not the climate of the past. Since 2016, SCC's Standards to Support Resilience in Infrastructure Program has led the development of standards and related guidance to safeguard infrastructure and communities. 
Our projects range from publishing reports that identify priorities and best practices for climate change adaptation, to supporting the work of national and international standards committees, to funding the development of new standards and updating existing ones. 
We focus on four key areas:
Arming standards writers with the tools to fight climate change
Getting the most out of weather and climate data
Designing infrastructure that can stand up to extreme weather events
SCC held a national consultation in the spring and summer of 2020 to find out what else is needed to help Canadians adapt to climate change. The input we received underscores the importance of the work SCC has advanced to date in close partnership with standards development organizations (SDOs) and other key partners. The findings also highlight the risks of not taking further action to adapt to climate change.
To find out about the results of this consultation, read our Standards in Action: Building a Climate Resilient Future report.
For a list of projects under SCC's Infrastructure Program, click here. 
Supporting Clean Tech Innovators
At SCC, we support clean tech innovators through standardization activities that foster commercialization and market access. These activities include increasing participation on technical committees, supporting the development of new standards and developing conformity assessment programs based on existing standards such as ISO 14034 Environmental management -- Environmental technology verification.
Through our Innovation Initiative we connect directly with clean tech companies to develop a customized standardization strategy and examine funding possibilities to support their projects. As a member of the Clean Growth Hub, SCC is one pillar in the federal ecosystem which supports advancement in clean technology and we encourage innovators to connect with one of our sector specialists for targeted guidance and support on their standardization journey.
Profiles
Facilitating Canadian Leadership on the International Stage
International standards are the invisible grease on the wheels of today's increasingly global economy. Common standards are instrumental in facilitating international trade and regulatory harmonization. Those with the most influence over the development of those standards, particularly relating to emerging technologies, can gain a competitive edge.
SCC makes sure that Canada is present at these tables, via the hundreds of technical committees facilitated by our International Standards Branch. These include longstanding committees such as TC 207 Environmental Management, as well as exciting new working groups relating to the circular economy, sustainable finance and the sharing economy. SCC supports the involvement of Canadians on many other committees that may not have a specific environmental aim, but whose work contributes to one or more of the UN 2030 Agenda's Sustainable Development Goals – enabling wider access to clean water or sanitary facilities, for instance. 
Bring your expertise to the table and participate in standards development.
Sector Specialists
Sector Specialists
Patricia Chartrand
Infrastructure and Climate Change
+1 613 238 3222
patricia.chartrand@scc.ca
Gary Graham
Infrastructure and Climate Change
+1 613 238 3222
gary.graham@scc.ca
Stephanie Poirier
Infrastructure and Climate Change
+1 613 238 3222
stephanie.poirier@scc.ca
Adamou Saidou
Infrastructure and Climate Change
+1 613 238 3222
adamou.saidou@scc.ca
Yuna Song
Infrastructure and Climate Change
+1 613 238 3222
yuna.song@scc.ca