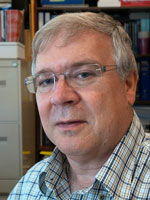 Dr. Mike Moss is a Medical Biochemist and has worked with LifeLabs BC since 2004, where he serves as Provincial Medical Director.
He undertook his medical and pathology training in London, United Kingdom, and in Halifax, Nova Scotia.
Before moving to Vancouver, Dr. Moss was Professor and Head of Pathology at Dalhousie University, and was jointly appointed as District Chief, Pathology & Laboratory Medicine at the Capital Health District.
Dr. Moss has had a longstanding interest in environmental toxicology and developed the human health criteria upon which several Canadian drinking water standards are based.
He also served for 20 years as a part-time medical examiner, which led to his extensive involvement in the forensic identification of the Swissair 111 plane crash victims.
In his non-medical life, Dr. Moss has a passion for film. He is co-writer and associate producer of a new feature film about the BRCA gene, Decoding Annie Parker, starring Helen Hunt, Samantha Morton and Aaron Paul.