Director General, Office of Energy Efficiency, Natural Resources Canada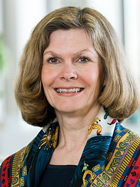 Carol Buckley is the Director General of the Office of Energy Efficiency, Natural Resources Canada. Ms. Buckley is responsible for the development and delivery of energy efficiency programs in all sectors of the economy, as well as for all energy demand-side policy functions. Through her Office, Ms. Buckley also delivers alternative transportation fuel programs.
Ms. Buckley has significant experience in the development and implementation of programs using regulatory, financial and information policy instruments, as well as in evaluation and analysis. She has held positions involving regulatory development in the energy sector, as well as climate change policy and evaluation. 
Ms. Buckley is a Council member for the Green Municipal Fund (GMF), operated by the Federation of Canadian Municipalities. The GMF is designed to improve sustainable operations in cities and communities across Canada.
She is the current chair of the International Partnership for Energy Efficiency Cooperation, a high-level international forum that provides global leadership on energy efficiency. The Partnership represents developed and emerging economies, which collectively account for more than 75 per cent of global GDP and energy use.