CORPORATE GOVERNANCE
SCC is governed by a Council that reports to Parliament through the Minister of Innovation, Science and Economic Development. The Council is comprised of 13 members, ten of whom are appointed by the federal government and three other members who sit on Council by virtue of the Chair/Vice-Chair positions they hold on statutory committees established in the Standards Council of Canada Act. The Council is responsible for overseeing the strategic direction of the organization, ensuring fulfillment of the mandate and providing guidance on governance matters.
SCC's Council is appointed to represent a broad spectrum of stakeholder interests in the private sector and members have the knowledge and experience necessary to assist the Council in setting the strategic direction of the organization, providing direction on governance issues and ensuring the fulfillment of SCC's mandate. Members are responsible for ensuring that decisions are taken in the best interest of SCC.
As a matter of good governance, SCC ensures that appointed Council members have the necessary skillsets—and varied knowledge and abilities—on Council. In support of this, SCC's succession planning matters are routinely reviewed by the Corporate Governance Committee and reported at Council.
The Council has two standing committees: the Audit Committee and the Corporate Governance Committee. The Audit Committee assists Council in fulfilling its oversight responsibilities with respect to the financial management of the organization, including financial reporting, internal accounting and financial controls, budgets, the internal and external audit process, risk management, continuous disclosure practices and compliance with ethics-related, legal and statutory requirements, and other related oversight responsibilities. The Corporate Governance Committee provides support with governance policy development, recruitment strategies, training programs, monitoring of Council activities, evaluation of Council members' performance, and oversight of the Chief Executive Officer's objectives and performance, as well as Council commitments.
The Council is also supported by two advisory committees as established in the Standards Council of Canada Act:
Provincial-Territorial Advisory Committee (PTAC)
PTAC promotes cooperation and communication between the provinces, territories and SCC, and provincial and territorial participation in Canadian standardization activities.
Standards Development Organizations Advisory Committee (SDOAC)
SDOAC promotes collaboration and cooperation between SCC and SCC accredited SDOs
COUNCIL MEMBERSHIP
The Council Chair and members were actively engaged throughout the year to ensure that SCC had the members it needed to accomplish its mission. In October 2017, Mary Cianchetti replaced Joseph Hosey as Chair of SDOAC. In November 2017, Kathy Milsom was reappointed for a second term as a member and Chair of Council. In February 2018, Jim Young began a new three-year term as PTAC Chair.
Three members of Council resigned in 2017–18: Claude Bédard in June 2017; Richard Raymond in November 2017; and Vice Chair W. A. Sam Shaw in December 2017. SCC is grateful for their stewardship and thanks all three for their time and commitment.
SCC is working closely with the federal government to recruit and select new members for Council.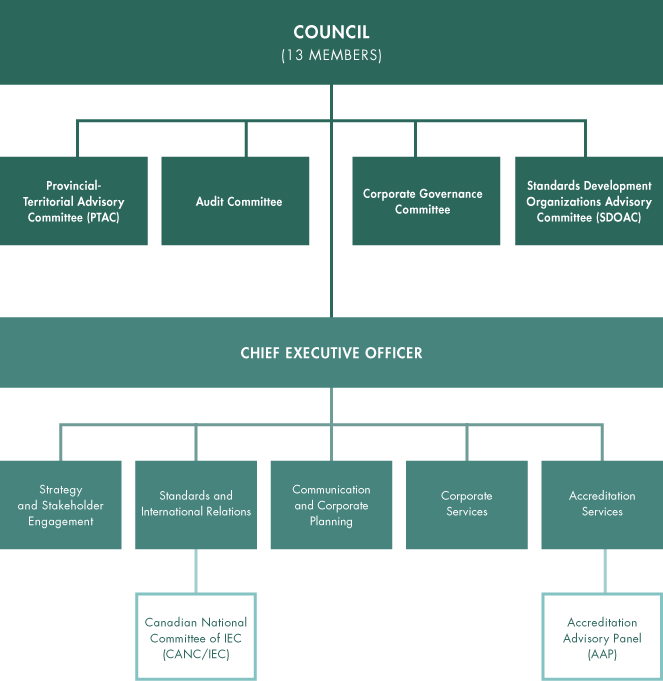 SETTING STANDARDIZATION PRIORITIES
During the 2017–18 fiscal year, Council continued to focus on the important role standardization plays in driving innovation, supporting public policy objectives, offering solutions to help protect vital Canadian infrastructure and providing value to Canadian governments, industry and consumers by ensuring that standards bolster Canada's efforts to build a more competitive and innovative economy. Council maintained a key role in setting and monitoring SCC's strategic direction and providing advice aimed at delivering greater value to Canada through standardization. The Council also reviewed governance aspects of SCC programming, such as standards development, National Standards of Canada and accreditation program requirements.
MEMBERS OF SCC'S COUNCIL
(AS OF MARCH 31, 2018)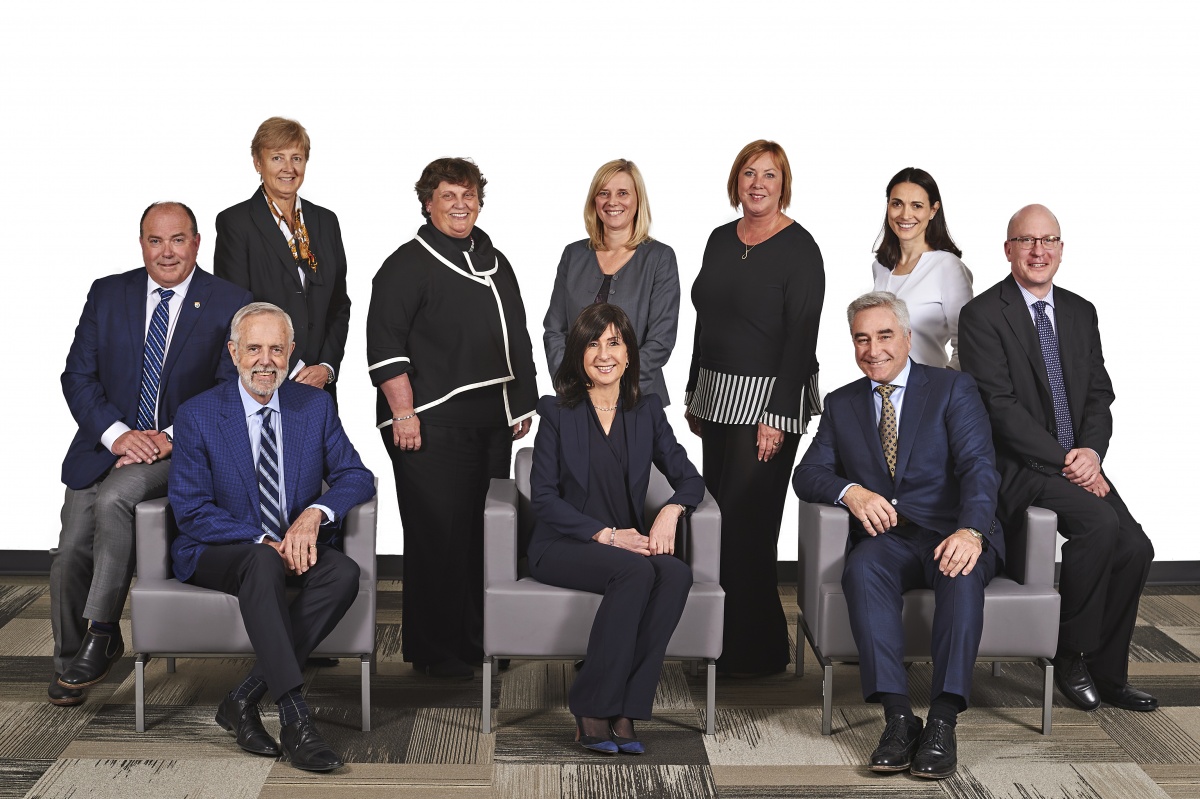 SCC's Council and CEO: (standing left to right) Sara Jane Snook, Merete Heggelund, Suzanne Gignac, Kathryn Coll, Mary Cianchetti, (seated left to right) Jim Young, John Walter (CEO), Kathy Milsom (Chair), Colin Clark and Paul Pierlot.
Kathy Milsom, P.Eng, ICD.D President and CEO, Toronto Community Housing Corporation Chair
Mary Cianchetti, President of Standards at CSA Group SDOAC Chair
Colin Clark, Chief Technical Officer, Brookfield Renewable
Kathryn Coll, President and Managing Partner, HR Atlantic
Glenn Feltham, PhD, President and CEO, Northern Alberta Institute of Technology
Suzanne Gignac, Partner, Ernst & Young LLP Audit Committee Chair
Merete Heggelund, Chief Administrative Officer, City of Medicine Hat, Alberta Corporate Governance Committee Chair
Paul Pierlot, Senior Manager, Competitiveness Initiatives Director, Entrepreneurship Manitoba, Government of Manitoba PTAC Vice-Chair
Sara Jane Snook Principal, SJD Management Ltd.
Jim Young, Director of Environment, Prince Edward Island Department of Communities, Land and Environment PTAC Chair