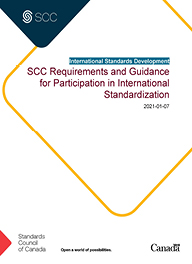 This document and the International Standards Development (ISD) Program Overview facilitate Canadian participation in international standardization including, but not limited to, participation at the International Organization for Standardization (ISO) and the International Electrotechnical Commission (IEC). As the Canadian member of ISO and IEC, SCC ensures effective Canadian participation in the activities of those organizations. SCC establishes requirements and guidance for participation within the Canadian framework and has the authority to determine compliance with the requirements, as outlined in this document.
This document supersedes:
CAN-P-1005:2011, Operational requirements for granting and maintaining SCC/SDO harmonization;
Requirements & Guidance – Committee Accreditation and Financial Assistance;
CAN-P-2019:2014,  Hosting Standardization meetings in Canada; and
CAN-P-7:2014, Canada's Policy on International Standardization Participation.