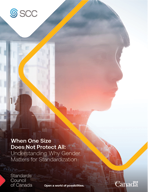 As part of our work to improve gender equality, SCC has done a cross-country analysis, using data from 106 countries, of the impact of gender on standardization. This ground-breaking research is captured in SCC's new report When One Size Does Not Protect All: Understanding Why Gender Matters for Standardization. 
SCC's research, outlined in the report, shows that countries which are more involved in standardization experience fewer unintentional male deaths.  As a country's participation in standardization increases, the number of men who die as a result of unintentional injuries decreases.  When the analysis was repeated to determine the impact of participation in standardization on the number of unintentional female deaths, there was no impact.  Unlike for men, increasing participation in standardization is not associated with a decline in the number of women who die as a result of unintentional injuries.  Standards are not protecting women as well as they protect men.  
Understanding how standardization impacts women is essential to doing something about it.