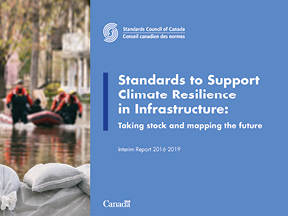 Ensuring Canada's infrastructure is climate-resilient
Interim Report 2016-2019
In the 2016 federal budget, SCC received $11.7 million over five years to support the Government of Canada's climate change agenda. Through the creation of the Standards to Support Resilience in Infrastructure Program we have been putting that funding to good use.
As of March 31, 2019, we have launched 31 out of 36 planned projects related to climate change and climate resilience. These projects range from publishing foundational reports that identify priorities and best practices to supporting national and international standards committees to funding the development of these new standards and updating existing ones.