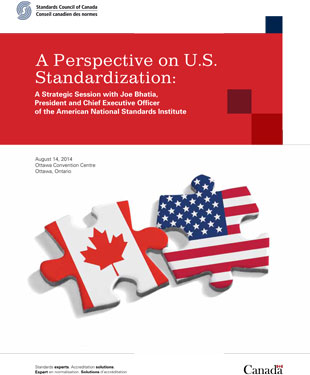 Business, governments and consumer groups interested in gaining a deeper understanding of the U.S. standardization system will want to read the Standards Council of Canada's (SCC's) latest report, A Perspective on U.S. Standardization: A Strategic Session with Joe Bhatia, President and Chief Executive Officer of the American National Standards Institute (ANSI).
The 12-page report highlights SCC's meeting with Bhatia, held on August 14, 2014, as part of an ongoing series of best practice exchanges on setting national standardization priorities. As emerging nations gain an increasingly influential international voice, Canada and the United States need to work together more than ever before to represent our shared interests. The report describes the importance of aligning standards and certification requirements so that both nations can pursue common goals.
Successful exporting nations have all made standardization a top priority. As Bhatia states, "Simply put, standards boost business."
A Perspective on U.S. Standardization features excerpts from Bhatia's presentation and a message from SCC's Chief Executive Officer, John Walter. Readers will gain valuable insight into the value and benefits of long-term standardization solutions for both countries' businesses, economies and quality of life.