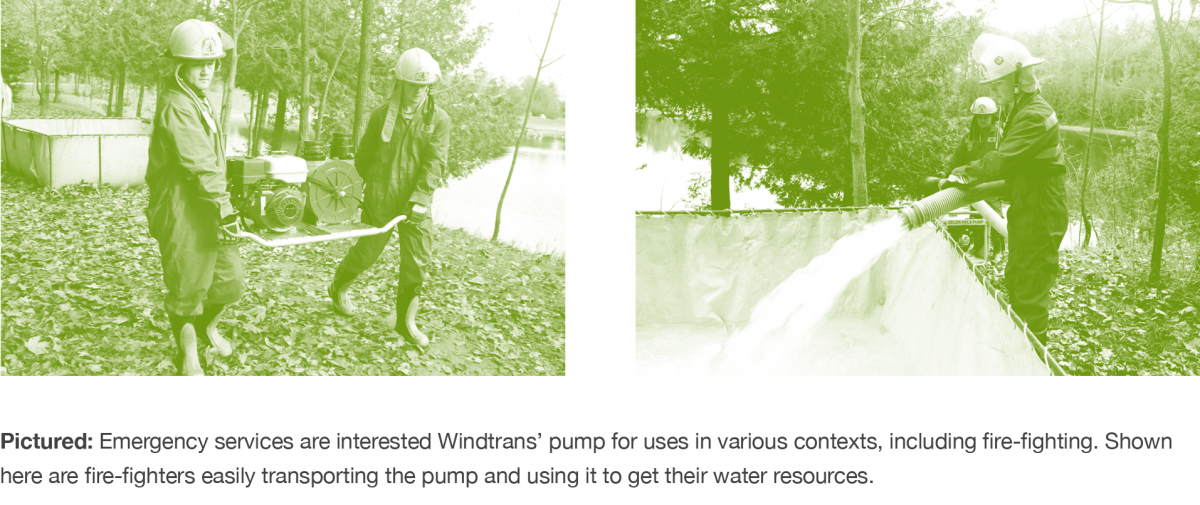 WindTrans created a versatile, energy efficient and portable pump that can be operated by hand, kinetic power or motor. Using innovative technology, it transfers fluids quickly with little effort, with or without an engine or motor. In fact, a manual hand crank test showed it can move 135 gallons of water per minute and another that it can empty a 55-gallon tank in under 16 seconds. It is the first high-flow rate pump operating efficiently at low rotational speeds in either pump or turbine mode. Not only that, it can also be used as a turbine to produce electricity when connected to a generator. 
This high volume, low speed pump – chiefly since it can be powered in several ways and produce energy – is ideal for situations when there is no power or grid assistance, like in remote areas and during power outages. Expectedly, emergency services have shown interest to use it for fire-fighting, flood control, spill recovery, and any time when connecting to power is impossible. It can also pump high and low viscosity fluids, from sludge to freshwater.
Although they were ready to go to market, WindTrans faced challenges certifying their product since no standard perfectly applied to their cutting-edge technology. Customer demand and concerns over liability drove this need for certification, especially since the pump is intended for a range of fluids, including heavier ones like oil. SCC helped them find an avenue to achieve certification by identifying a standard that best applied and advising on how to amend it so it allows for their innovative product. Having now received certification under this amended standard, WindTrans is able to access new markets and stay competitive.