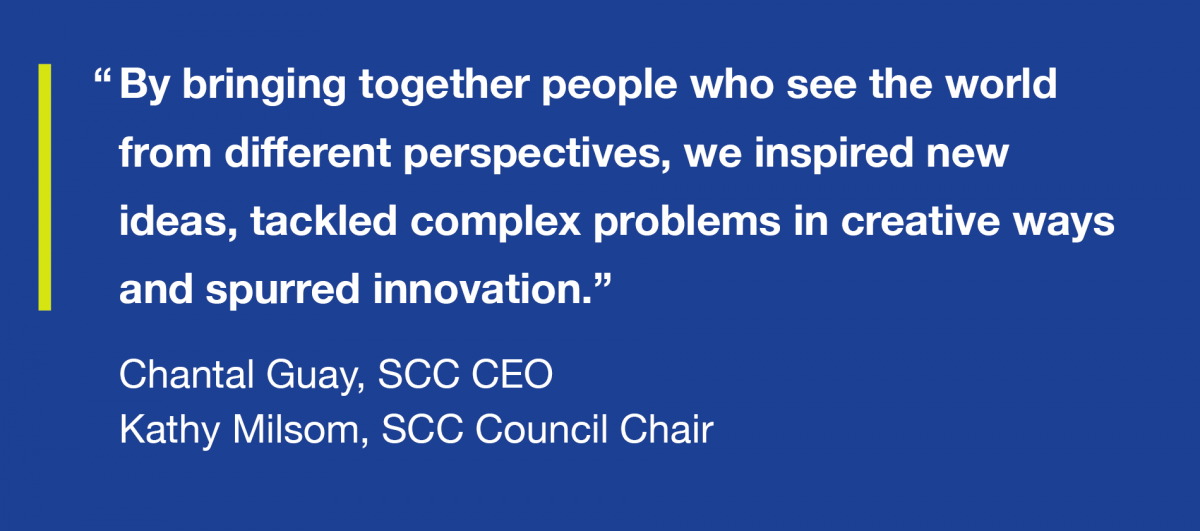 Great things can happen when we put our expertise and know-how as facilitators and consensus-builders at the service of our partners and stakeholders.
Our accomplishments were made possible through collaboration, by building strong relationships, and bringing together diverse groups and perspectives to develop strategies that are inclusive. We realized our goals with strong support from Innovation, Science and Economic Development Canada, our Council and the dedication of our staff and our partners in Canada's standardization network.
By bringing together people who see the world from different perspectives, we inspired new ideas, tackled complex problems in creative ways and spurred innovation. Thanks to everyone's contributions, standardization in Canada is thriving and delivering results. As we continue to support sectors that have traditionally benefited from standardization, we are also setting our sights on new and emerging areas – AI, big data, data governance and cannabis – so they can benefit from standardization early-on.
In the past year, we continued to leverage standardization in partnership with our stakeholders. Standardization can act as both a driver of innovation that can help unlock new opportunities, and as a problem-solving strategy that can assist in tackling the most important and complex challenges faced globally today.
Adapting to the effects of climate change is arguably one of our most pressing issues, especially in Canada where warming is happening at a faster rate than the rest of the world. We continue to work with standards development organizations and experts, developing standardization strategies to adapt our infrastructure, so it is more resilient, everywhere in Canada but especially in the North where effects are being felt more acutely. Standardization is also an effective strategy in the digital world, as more of our lives move to online spaces and data governance becomes a growing concern, particularly in light of recent data scandals and breaches. For example, we recently accredited the CIO Strategy Council – which is driving the development of standards for the ethical use of data and artificial intelligence – so they can now develop National Standards of Canada in this area. And with the European Union's General Data Protection Regulation (GDPR) now in effect, we brought together key players in the sector to create the Canadian Advisory Committee on GDPR as a coordinated effort to help Canadian organizations address their regulatory obligations and develop strategies to help Canadians.
Another area where we are collaborating to unleash standardization's problem-solving potential is with respect to breaking down trade barriers within Canada and supporting Canada's commitment to modernize the Canadian Free Trade Agreement. We continue to capitalize on our consensus-building and facilitation expertise to support federal, provincial and territorial governments' aim to harmonize differing requirements between jurisdictions, reduce red tape and unnecessary costs, and ultimately help Canadian businesses succeed and our economy prosper.
In a world that is changing at lightning speed, we continue to work with our partners to ensure Canada is well positioned to reap the benefits of standardization's potential to drive innovation. Canadian experts are playing increasingly significant roles in shaping and influencing marketplace rules that ultimately improve Canada's ability to compete globally and help ensure that we are on the cutting edge of the global innovation race. By bringing together, engaging and supporting this team of the best and brightest, the Standards Council of Canada helps amplify Canada's voice internationally by growing our country's leadership role in regional, national and international standardization activities around the world. 
Just as important is SCC's ongoing commitment to the sustainability of Canada's standardization network. We are keeping pace with change by continually modernizing our tools and processes to improve collaboration, develop new standardization strategies that are responsive and efficient, adapt our accreditation offerings to reflect emerging needs, and recruit and retain top talent to power our organization's work. The value of diversity is top of mind as we implement an extensive employment equity program. We are also focused on the pursuit of greater diversity, including gender balance, in standardization, especially at the international level. As demographics change, we are invested in ensuring that the standardization world is reflective of Canada's diversity by creating an environment where a broad range of voices can be heard. Looking to the future, we remain committed to actively engaging young professionals and cultivating the next generation of Canadian standards makers. 
We are keen to continue working alongside Canadian innovators to build standardization into the development of their ideas, helping them remain competitive and access new markets. New this year, we are also supporting the Government of Canada's Innovative Superclusters Initiative by ensuring that companies know early-on how they can leverage standardization to accelerate the commercialization of their breakthroughs, and shape marketplace rules to their advantage. Work is also underway with the newly formed Canadian Data Governance Standardization Collaborative to identify data governance priorities that could benefit from standardization, an important first step towards delivering a comprehensive standardization roadmap that will benefit Canadian organizations and citizens. 
This year was a particularly successful one for us at the Standards Council of Canada. We had very ambitious goals to drive innovation, mobilize Canadian leadership and realize organizational excellence, and in each of these areas we surpassed what we set out to achieve. Together with our partners in Canada's standardization network – including standards development organizations and other accredited organizations  – Canadian experts and technical assessors, provincial, territorial and federal government regulators and policy-makers, international and regional standardization bodies, consumers and non-government organizations, academics and industry partners – we were successful in harnessing the power of standardization to fuel change for the better, help us prosper, contribute economic benefits and improve quality of life.
In closing, we would like to extend our appreciation to Standards Council staff and Council members, representatives of our shareholder, the Government of Canada, and the invaluable members of the Canadian standardization network for their contributions to all our considerable successes this past year.