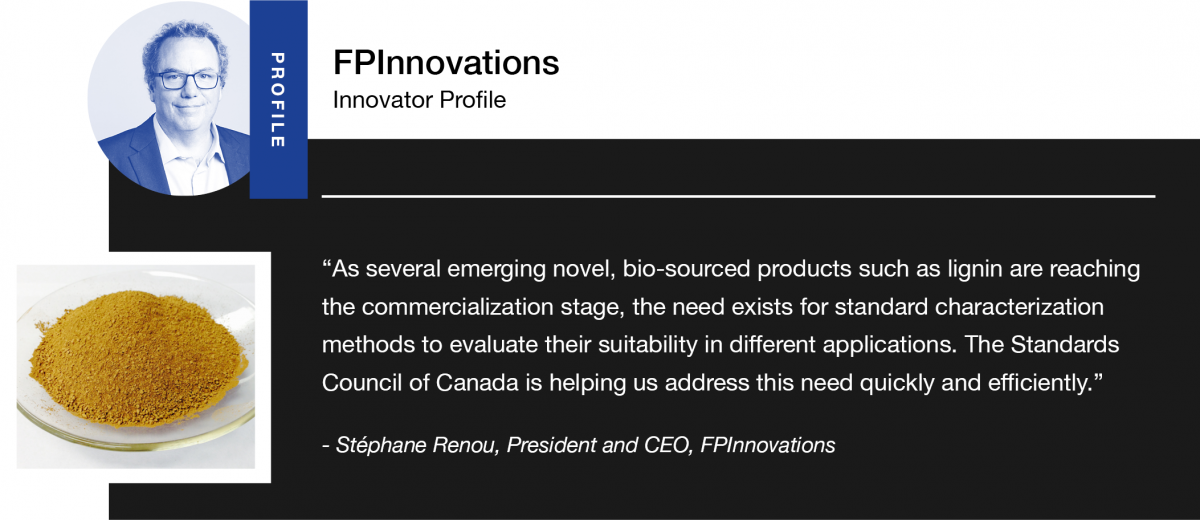 FPInnovations is a not-for-profit organization that specializes in innovative scientific solutions for the forestry sector, with a strong commitment to enhancing competitiveness and sustainability. One of their promising innovations is a proprietary process that recovers lignin – a highly versatile and renewable bioproduct – from waste products in the pulp industry. It was recently discovered that it can be used as a replacement for fossil-based raw materials in products such as carbon fiber, adhesives, thermoplastics, resins, composites and various chemicals. 
Lignin's potential has sparked considerable interest worldwide and developing new standards to assess purity, reactivity, chemical modification and end-use performance is indispensable to achieve its commercialization and trade potential. FPInnovations was already well-versed in standards development and with SCC's support they were able to start working on the standardization for lignin properties sooner than planned. 
The company is already seeing results: ISO has recently recognized lignin's value by expanding the scope of ISO Technical Committee 6 (ISO/TC6) on Paper, Board and Pulp to include lignin. The Technical Committee has established an ad hoc group and brought forward two proposals for high priority test methods. The objective is to ensure that standards are developed in relevant areas and prioritized to effectively respond to the global lignin industry's technical, regulatory and marketing needs. The two proposed international standards on lignin characterization under development will describe methods for determining the lignin content and carbohydrate composition of industrially-produced lignins.
SCC continues to support the path forward for FPInnovations by building awareness with national standards bodies, thanks to our participation in regional and international standardization organizations. By supporting the development of these international standards, SCC is helping FPInnovations fill a critical gap and helping the company develop a robust lignin-based industry that can better meet market demands and position Canada as world leader in this area.