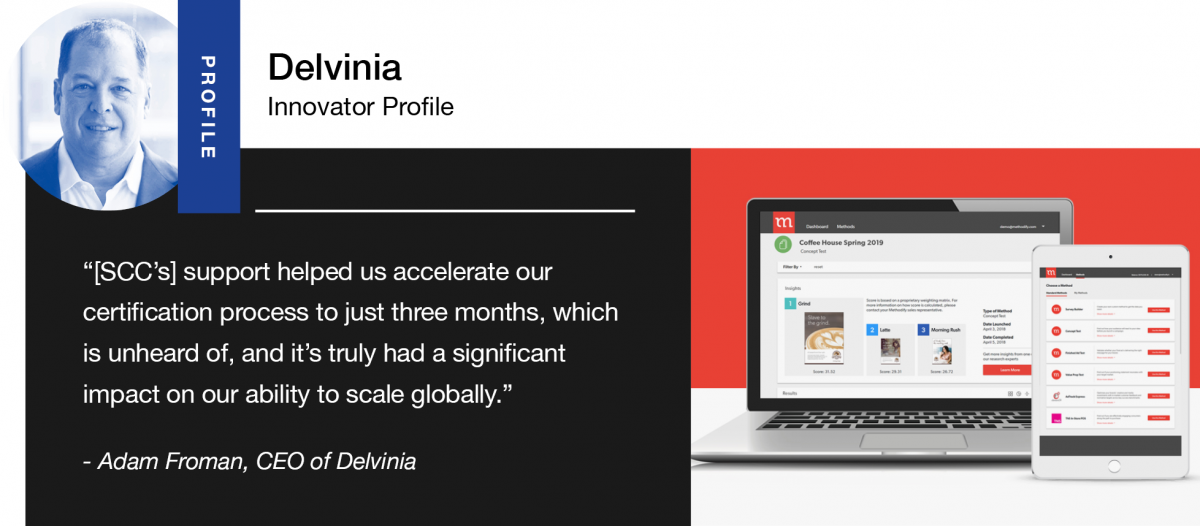 Delvinia is a Toronto-based data collection company that provides accurate, relevant, reliable and current market information to help clients across Canada and around the world make better business decisions. In 2015, Delvinia launched Methodify, the first online automated market research platform in Canada, giving brands the ability to collect consumer insights and feedback in hours versus traditional research methods that would deliver this in weeks. The company's prioritization of data security has become even more important in light of several recent data scandals and breaches involving other organizations.
Delvinia needed to know how it could use its competitive advantage – that it can demonstrate how it protects information, and that the company has permission to collect it – to expedite the approval process from procurement of their global clients. Delvinia's CEO Adam Froman believes SCC's guidance throughout the process was instrumental in achieving their goal. "It wasn't until we started scaling globally that we realized how unprepared we were to take on the threats of a global marketplace. While we recognized we had to do something about it, it was SCC that determined ISO 27001 was the right standard for us to pursue to give us a competitive advantage globally, and they identified all the necessary steps to take to prepare for a speedy certification."
SCC's advice and expertise helped Delvinia obtain ISO 27001 certification to demonstrate follow-through on its pledge to protect data. This international standard is used around the world to ensure the safety of consumer data by providing a set of standardized requirements for an information security management system. 
SCC made the certification journey a smooth one for Delvinia, directing the company to training services to prepare for certification, a consulting firm for a pre-audit, and accredited certification bodies in Canada. Delvinia was approved within three months of its initial security audit—an incredible feat considering companies of similar size typically take up to six months for certification—and now holds a competitive advantage over other data collection companies. 
"Their support helped us accelerate our certification process to just three months, which is unheard of," explained Froman, "and it's truly had a significant impact on our ability to scale globally."
The company can now show it is protecting the interests and rights of individuals while providing clients the data they need.