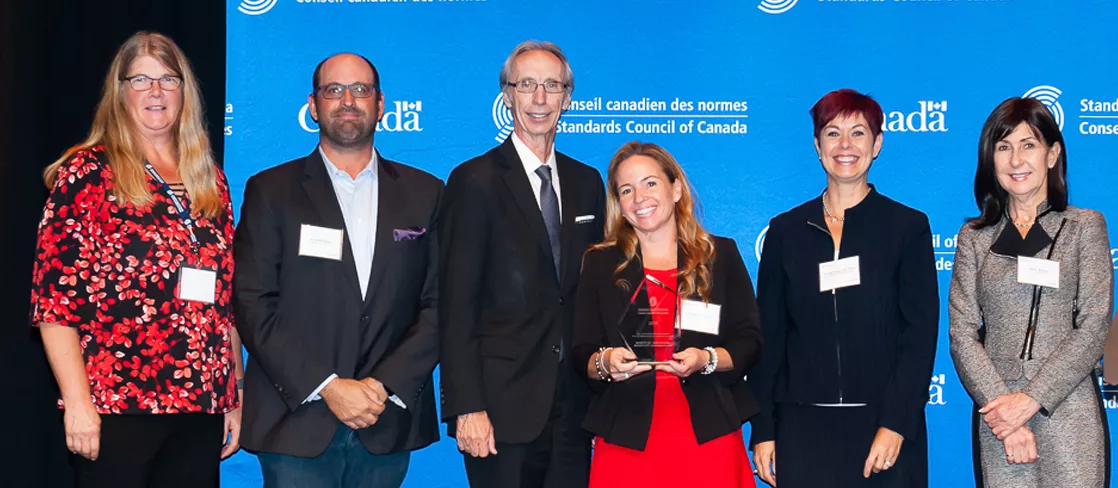 SCC Awards – 2020 |
Overview
Every two years, the Standards Council of Canada (SCC) presents Canada's national awards in standardization. These awards recognize the commitment of individuals, organizations and committees who dedicate their time and expertise in support of Canada's national standardization network. 
Representatives from industry, government, academia, consumer organizations, and the Canadian voluntary consensus standards and conformity assessment community, are invited to submit their nominations. 
 
Eligibility |
of Candidates and Sponsors
Nominees are required to be actively involved in international and/or national standardization activities such as development (e.g. standards, guides), implementation (e.g. accreditation, certification, conformity assessment), policy (e.g. trade and cooperation agreements, advisory committees), research, and/or technical assistance (e.g. projects assisting developing/emerging economies). Current members of the SCC Governing Council are not eligible for nomination. All nominations must be supported by the following documents:
An overview of the contributions of the individual, organization, or committee;
Curriculum vitae (for individual awards) or Profile (for organizational or committee awards);
One letter of recommendation highlighting why the nominee should be a recipient of the award.
The 2020 award recipients will be invited to participate in SCC's 50th anniversary celebratory event.
Nominations for the 2020 Awards are now open.
The closing date to submit nominations is Friday, November 27, 2020.
Selection |
Process
The Awards Committee consider every nomination received. Selections are made based on the comparison of data submitted against the description of each award.
An announcement of recipients is expected in February.
Data shows that women more frequently do not apply to a job or volunteer opportunity because they do not feel they meet all the criteria. View the listed qualifications as a general overview, but not a mandatory comprehensive list. We encourage those who are passionate about developing gender responsive standards and believe they have the skills to contribute and lead in this area, to apply!
List |
of Awards
Hugh Krentz Award
Recognizing exceptional leadership and contributions of an individual in Canada's standardization network. Hugh Krentz served as Chairman of the Standards Council of Canada (SCC) for ten-and-a-half years until 2011. As an Officer of the Order of Canada and former president of the Canadian Institute of Steel Constructions (CISC), Mr. Krentz's outstanding contributions to standards and standardization are widely recognized at home and abroad. As SCC's top honour, the Hugh Krentz Award recognizes an individual's significant contribution towards national or international standardization efforts for a period of at least five (5) years and demonstrated exceptional participation, leadership and/or technical assistance in the development, promotion or implementation of policies, standards or guides (through certification or accreditation programs).
The recipient will be selected for exceptional qualities, reflecting Hugh Krentz's own characteristics, including:

Commitment to standardization
Positions of increasing responsibility within the standardization network
Honesty and integrity
Neutrality and diplomacy
Dedication to Canada and to putting Canada's interests first
Respect towards others
Nominees must also meet the general eligibility criteria of the SCC Awards.
SCC Corporate Commitment Award
Recognizing the contributions and commitment made by a group or organization (e.g. business, academic, non-governmental organization, consumer, federal-, territorial-, provincial-, and/or municipal government body) in support of standardization activities nationally and internationally. Nominees of the SCC Corporate Commitment Award must have contributed significantly to national or international standardization efforts, for a period of at least five (5) years and demonstrated exceptional participation, leadership and/or technical assistance in the development, promotion or implementation of policies, standards or guides (through certification or accreditation programs).
The recipient organization will be selected based on exceptional characteristics displayed in its standardization activities, including:

Commitment to the use of standards in its sector
Expanding leadership role within their sector through standardization activities
Support for standardization at multiple levels of management within the organization
Active leadership in promoting standards / standardization in its sector
SCC Committee Achievement Award
Recognizing teamwork, consensus-building, productivity and multidisciplinary cooperation demonstrated by a standards-related committee. Nominees of the SCC Corporate Commitment Award must have contributed significantly to national or international standardization efforts, for a period of at least five (5) years and demonstrated exceptional participation, leadership and/or technical assistance in the development, promotion or implementation of policies, standards or guides (through certification or accreditation programs).
Nominees must also have demonstrated the committee's development or completion of national or international documents (e.g. Canadian procedural documents, standards, guides, policy, publications, research reports).
The recipient committee will be selected based on exceptional characteristics displayed during standardization activities, including:

Teamwork, consensus-building
Productivity, production of deliverables
Cooperative, inclusive
Respect of/adherence to established best governance practices/principles
SCC Young Leader Award
Canada's standardization network depends on the dedication and commitment of young professionals. The SCC Young Leader Award recognizes the leaders of tomorrow by honoring an engaged and active participant of the standardization network who is under the age of 40. Nominees of the SCC Young Leader Award must have contributed significantly to national or international standardization efforts, for a period of at least two (2) years and demonstrated exceptional participation, leadership and/or technical assistance in the development, promotion or implementation of policies, standards or guides (through certification or accreditation programs).
The recipient will be selected for exceptional qualities displayed during standardization activities, including:

Engaged and, active participation
Growth and continually progressive responsibilities through the course of their standardization work
Collaborative and teamwork-oriented
Demonstrated vision
Strong leadership growth potential
McMahon Dedicated Service Award
Recognizing exceptional dedication and contributions of an SCC staff member. The award is named in memory of Joseph Terrence McMahon (1965-2004). An esteemed member of the SCC staff, Mr. McMahon exhibited genuine concern and respect for others, a supportive nature and a vast knowledge of standardization that engendered his contributions to the SCC and Canada's national standardization network. The McMahon Dedicated Service Award has been conferred by the SCC since 2004 to individuals who have likewise distinguished themselves through their involvement and contributions to standardization.
Nominees of the McMahon Dedicated Service Award must have contributed significantly to national or international standardization efforts, for a period of at least five (5) years and demonstrated exceptional participation, leadership and/or technical assistance in the development, promotion or implementation of policies, standards or guides (through certification or accreditation programs).
The recipient will be selected for exceptional qualities, reflecting Joseph Terrence McMahon's own characteristics, including:

Initiative in seeking results that meet SCC's corporate objectives
Customer focus internally and externally
Timeliness in carrying out responsibilities
Provided direction and long-term planning to the continued success of standardization nationally/internationally